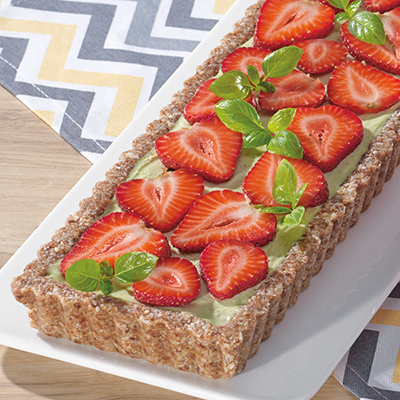 NO-BAKE BASIL STRAWBERRY CHEESECAKE
Ingredients
Serves 6
1 cup (250 ml) unsweetened, shredded coconut
½ large avocado, peeled and pitted
⅓ cup (75 ml) packed basil leaves, plus extra for garnish
1 x 14 oz (397 g) can sweetened condensed milk
1 tsp (5 ml) vanilla extract
1 x 8 oz (226 g) package cream cheese, at room temperature
2 tbsp (30 ml) lime juice
1½ cups (375 ml) strawberries
Instructions
In a food processor, blend pecans, coconut, dates and salt until it starts to clump and stick together. Press evenly along bottom and up sides of a 4 x 14-in (10 x 35 cm) fluted rectangular tart pan with removable bottom. Freeze while making filling.
In a blender, combine avocado, basil, condensed milk and vanilla extract until smooth. Add cream cheese and lime juice and blend until creamy and smooth. Pour into prepared crust and smooth top. Refrigerate at least 4 hours.
Just before serving, slice strawberries and scatter over top of cheesecake. Garnish with additional basil leaves.
Drink Pairings