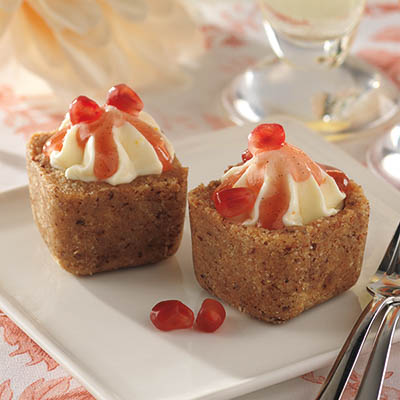 Ingredients
Serves 24
8 oz (250 g) graham crackers
6 tbsp (45 ml) granulated sugar
2 cups (500 ml) hazelnut flour
1 cup (250 ml) unsalted butter, melted
1 tbsp (15 ml) lemon juice, plus extra as needed
5 oz (140 g) cream cheese, at room temperature
3 oz (90 g) sour cream or crème fraîche
⅓ cup (75 ml) icing sugar
2 tsp (10 ml) orange liqueur, optional
½ cup (125 ml) whipping cream
pomegranate seeds, for garnish
5 cups (1.25 L) chopped rhubarb
1 cup (250 ml) granulated sugar
½ vanilla bean, split in half
1 tbsp + 1½ tsp (15 ml + 22 ml) liquid pectin
Instructions
Line 24 cups of a mini muffin tin with plastic wrap. Pulse together graham crackers and granulated sugar in a food processor until very finely ground. Add hazelnut flour and pulse to combine. Transfer to a bowl and stir in melted butter and lemon juice. Mixture should form clumps easily when pressed together. If not, add more lemon juice, 1 tsp (5 ml) at a time. Divide among prepared cups in muffin tin and press mixture firmly into bottom and up the sides of each cup. Place in freezer while preparing filling.
In bowl of a stand mixer fitted with paddle attachment, mix together at medium speed cream cheese, sour cream, icing sugar, orange liqueur (if using) and orange zest until well combined.
In another bowl, whisk cream until stiff peaks form. With a rubber spatula, fold whipped cream into cream cheese mixture. Spoon or pipe into chilled crusts and return to freezer until firm, about 30 minutes.
Just before you are ready to serve, in a small saucepan, warm Rhubarb Orange Jelly over low heat until smooth and pourable. Remove from heat and set aside.
Remove cheesecakes from tin by gently pulling up on plastic wrap. Carefully remove plastic and place cheesecakes on a platter. Drizzle each with jelly and garnish with pomegranate seeds. Serve chilled.
To make RHUBARB ORANGE JELLY: Squeeze juice from orange into a large saucepan. Cut remaining orange, pith and all, into chunks and add to saucepan along with rhubarb and water. Bring to a boil over high heat. Reduce heat to medium-low, cover and simmer until rhubarb is very tender and starting to fall apart, about 15 minutes.
Line a fine mesh sieve with a couple of layers of cheesecloth and place over a deep bowl or pot. Pour rhubarb mixture into prepared sieve and allow to drain for at least 2 hours or overnight. Discard any solids left in sieve.
Place ⅔ cup (150 ml) strained rhubarb mixture into a large saucepan. Add sugar and vanilla bean before placing over high, heat bringing mixture to a boil, stirring occasionally until sugar has dissolved. Add pectin and let mixture boil, stirring occasionally, for 1 minute. Remove from heat, discard vanilla bean and skim off and discard any foam that may have formed on surface. Transfer juice to a heatproof bowl set over an ice water bath to cool. If not using immediately, jelly may be refrigerated in an airtight container up to 1 month.
Drink Pairings