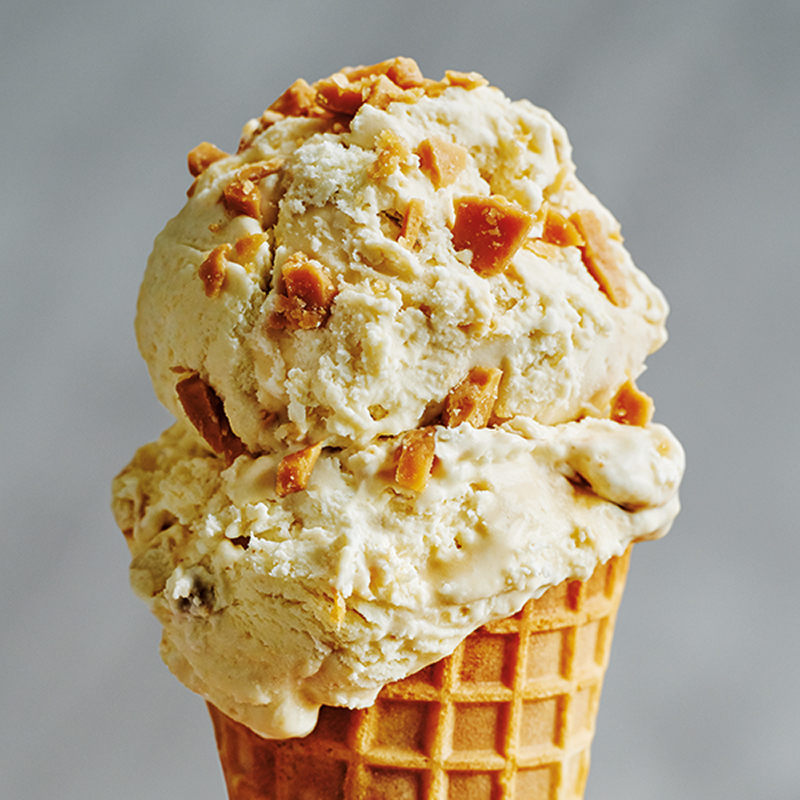 No Churn Brown Butter Bourbon Ice Cream with Toffee
Ingredients
Serves about 4 cups (1 L)
1 cup (250 ml) salted butter, divided
1 cup (250 ml) light brown sugar
2 cups (500 ml) whipping cream
1 x 10 oz (300 ml) can sweetened condensed milk
Instructions
Line a medium-sized baking sheet with parchment paper.
To make toffee, in a saucepan, over medium-high heat, melt ½ cup (125 ml) butter. Add brown sugar and whisk to combine. Bring mixture to a boil, whisking occasionally. Cook until a thermometer reaches 295 F (145 C), about 10 minutes. Pour toffee onto lined baking sheet and let sit until hardened and cooled, about 15 minutes. Break into small pea-sized pieces and set aside.
In same saucepan, over medium-high heat, melt remaining butter. Reduce heat to low and carefully cook butter until it turns a deep brown colour and smells nutty, about 10 to 12 minutes. Set aside and allow to cool slightly.
In a large stainless steel mixing bowl, using an electric hand mixer, whip cream until stiff peaks form. Set aside.
Add condensed milk and bourbon to brown butter mixture and stir to combine. Add half the mixture to whipped cream and gently fold in to combine. Repeat with remaining bourbon mixture.
Fold half the toffee pieces into cream and freeze overnight in a freezer-safe container with a lid. Save remaining toffee for garnish.
Drink Pairings