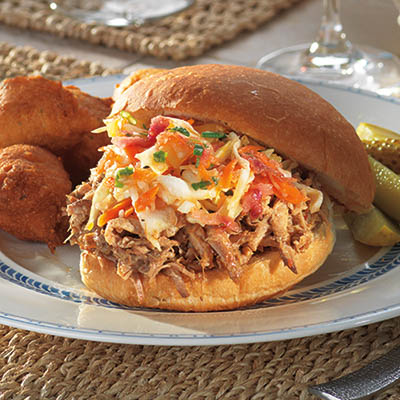 NORTH CAROLINA-STYLE PULLED PORK BURGERS WITH HUSH PUPPIES AND RED SLAW
Ingredients
Serves 8 to 10
3 tbsp (45 ml) packed brown sugar
3 tbsp (45 ml) garlic powder
2 tbsp (30 ml) sweet paprika
2 tbsp (30 ml) dried oregano
1 tbsp (15 ml) ancho chili powder
1 tsp (5 ml) coarse ground black pepper
8 lb (4 kg) bone-in pork shoulder roast, with skin
5 cups (2.25 L) apple or other wood chips, soaked in water for at least 30 minutes and drained
8 to 10 soft hamburger buns, to serve
dill pickles, for garnish
NORTH CAROLINA-STYLE VINEGAR BARBECUE SAUCE:
3 cups (750) apple cider vinegar
¾ cup (175 ml) brown sugar
3 tbsp (45 ml) kosher salt
3 to 4 garlic cloves, minced
2 tbsp (30 ml) crushed red pepper flakes
1½ tsp (7 ml) freshly ground black pepper
NORTH CAROLINA RED COLESLAW:
1 cup (250 ml) coarsely grated red onion
¾ cup (175 ml) canola oil
3 tbsp (45 ml) apple cider vinegar
1 tbsp (15 ml) granulated sugar
1½ tsp (7 ml) celery seeds
1 medium head green cabbage, thinly sliced or coarsely grated
2 cups (500 ml) coarsely grated, peeled carrots
4 green onions, finely chopped, optional
salt and freshly ground pepper, to taste
1½ cups (375 ml) all-purpose flour
1½ cups (375 ml) cornmeal
2 tbsp (30 ml) baking powder
2 tbsp (30 ml) granulated sugar
1 tbsp (15 ml) baking soda
1¼ cups (300 ml) buttermilk
2 tbsp (30 ml) finely chopped fresh parsley
1 large yellow onion, grated, including juices
Instructions
To make PULLED PORK BURGERS: In a small bowl, make spice mixture by mixing together brown sugar, garlic, paprika, oregano, chili powder, salt, celery salt and pepper. Place meat in a non-reactive bowl and spice mixture all over meat. Cover and refrigerate overnight.
Set up grill for indirect cooking1 and preheat to 325 F (175 C). Place pork shoulder, skin-side up, on grate over a drip pan. If using a charcoal grill, toss a quarter of the wood chips on coals. If using a gas grill, place chips in smoker box. As soon as it begins to smoke, add meat and drip pan, close lid on grill.
Smoke-cook pork until fall-off-thebone tender with an internal temperature of 195 F (90 C), about 4 to 5 hours. If using charcoal, add 10 fresh coals and 1 cup (250 ml) wood chips every hour.
Meanwhile prepare NORTH CAROLINA-STYLE VINEGAR BARBECUE SAUCE: In a medium-sized saucepan stir apple cider vinegar and brown sugar over medium heat until sugar dissolves. Remove from heat and add ketchup, honey, kosher salt, garlic, red pepper flakes and pepper. Allow to cool. Cover and set aside.
To make NORTH CAROLINA RED COLESLAW: In a large bowl whisk together red onion, oil, ketchup, cider vinegar, granulated sugar and celery seeds. Add cabbage, carrot and green onions. Toss well, cover and refrigerate at least 2 hours. Add salt and pepper to taste.
To make HUSH PUPPIES: In a large bowl combine flour, cornmeal, baking powder, granulated sugar, baking soda, salt and cayenne. In a medium-sized bowl stir together buttermilk, eggs, parsley, grated onion and their juice. Pour over dry ingredients and stir together until just combined. Set aside to rest for 1 hour.
Pour canola oil to a depth of 2-in (5 cm) in a large heavy Dutch oven and heat over medium-high heat until a deep-fry thermometer reads 350 F (180 C). Using a tablespoon (15 ml), drop small rounds of batter into oil, making sure to not to crowd pan. Cook, stirring occasionally and flipping halfway through, until golden and crisp, about 3 to 4 minutes. Remove Hush Puppies from oil and drain on paper towels.
When pork roast is ready, transfer to a cutting board, tent with aluminum foil and let rest for 15 minutes. Pull off and discard any skin. Pull pork into pieces, discarding any bones or fat. Thin-shred pork by pulling at it with 2 forks. For every 3 cups (750 ml) of pulled pork, toss with 1 cup (250 ml) of the prepared barbecue sauce.
Place a good portion of pulled pork on bottom half of toasted buns and top with a dollop of coleslaw. Alternatively, serve coleslaw on side. Cover with top bun and garnish with dill pickles and serve alongside Hush Puppies.
Drink Pairings