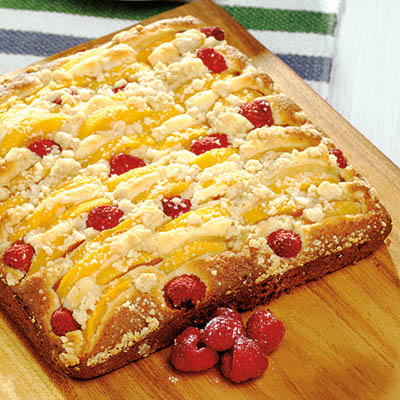 OKANAGAN PEACH AND FRASER VALLEY RASPBERRY POUND CAKE
Ingredients
Serves 8
2¼ cups (560 ml) all-purpose flour, plus extra for dusting
1 tbsp (15 ml) baking powder
¾ cup (175 ml) sugar, plus 1 tbsp (15 ml) for sprinkling
¾ cup (175 ml) unsalted butter, plus extra for greasing pan
1 tsp (5 ml) vanilla extract
1 tsp (5 ml) grated lemon zest
4 medium Okanagan peaches, blanched, peeled, each cut into 8 wedges
1 cup (250 ml) BC raspberries
1 cup (250 ml) all-purpose flour
6 tbsp (90 ml) unsalted butter, softened
¼ cup (60 ml) brown sugar
Instructions
Preheat oven to 325 F (170 C). Butter a 9-in (23 cm) square cake pan, dust with flour and set aside.
Into a medium-sized bowl, sift flour, salt and baking powder. Set aside.
In another medium sized bowl, cream sugar and butter with a mixer until light and fluffy. Add eggs, one at a time, mixing and scraping bowl down after each addition. Add vanilla extract, honey and lemon zest.
Fold in half the dry ingredients, then fold in milk. Fold in remaining dry ingredients.
Pour batter into cake pan and top with peaches and raspberries, sprinkle with Streusel, recipe below. Bake for about 45 minutes, or until cake tester or skewer comes out clean. Let cool before cutting and serving.
To make STREUSEL: In a medium bowl, mix all ingredients together with a wooden spoon or fingers until everything is blended. The mixture will be crumbly.
Drink Pairings