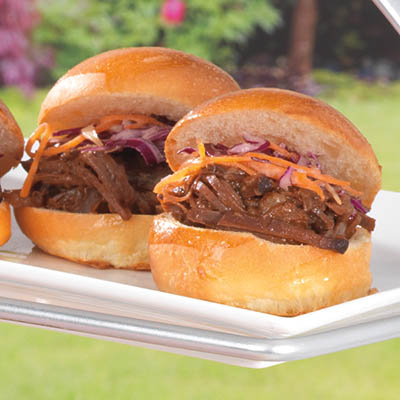 OPEN-FACED BRAISED BEEF SLIDERS
Ingredients
Serves 15
2 tsp (10 ml) kosher salt
½ tsp (2 ml) ground pepper
1 tbsp (15 ml) smoked paprika
1 tsp (5 ml) mustard powder
¼ cup (60 ml) brown sugar
2 tbsp (30 ml) Worcestershire sauce
½ cup (125 ml) apple cider vinegar
1 lb (500 g) beef brisket
¼ tsp (1 ml) freshly ground pepper
1 tbsp (15 ml) grapeseed oil
¼ cup (60 ml) cabbage, thinly sliced
⅛ cup (25 ml) carrots, julienned
1 tbsp (15 ml) mayonnaise
1 tbsp (15 ml) lemon juice
1 tsp (5 ml) grainy mustard
1 tsp (5 ml) parsley, chopped
15 mini buns, cut in half
Instructions
To make BARBECUE SAUCE: Simmer all ingredients in a medium saucepan over medium heat for about 30 minutes until the onions and garlic are cooked and the flavours have come together. Cool and purée the sauce until smooth. Set aside.
To make BRAISED BEEF: Season beef with salt and pepper.
Sear the beef in a medium-sized skillet oil over medium-high heat until all sides are golden brown. Turn the heat down to low and add the Barbecue Sauce. Add enough water to cover the beef halfway.
Braise the beef over low heat for 3 to 4 hours, or until tender.
Remove the beef from the sauce and cool to room temperature. Meanwhile, simmer the sauce and reduce it until it is thick and sauce consistency.
Shred the beef and mix it with the sauce.
To make CABBAGE SLAW: Mix cabbage, carrots, mayonnaise, lemon juice, grainy mustard, and parsley. Season with salt and pepper, to taste.
Assemble the sandwiches: Stuff the mini buns with braised beef and top with Cabbage Slaw.
Drink Pairings