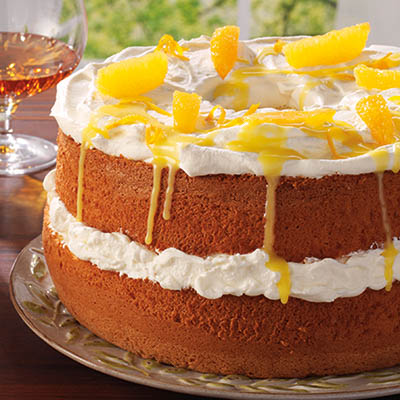 Ingredients
Serves 12
2 cups (500 ml) all-purpose flour
4 tsp (20 ml) baking powder
1½ cups (375 ml) granulated sugar, divided
½ cup (125 ml) vegetable oil
2 tbsp (30 ml) orange zest, finely grated
¼ cup (60 ml) fresh orange juice
¼ tsp (1 ml) cream of tartar
1 tsp (5 ml) vanilla extract
¾ cup (175 ml) granulated sugar
¼ cup (60 ml) fresh orange juice
2 tbsp (30 ml) fresh lemon juice
½ cup (125 ml) chilled butter, cubed
2 cups (500 ml) whipping cream, chilled
3 tbsp (45 ml) granulated sugar
¼ tsp (1 ml) vanilla extract
1 tbsp (15 ml) candied orange zest
Instructions
To make CHIFFON CAKE: Preheat oven to 325 F (170 C). Have a clean, dry 10-in (25 cm) tube pan ready.
In a large mixing bowl, sift together flour, baking powder, 1 cup (250 ml) sugar and salt. Make a well in centre of flour. Add 6 egg yolks, oil, orange zest and juice. Whisk until smooth.
In another large mixing bowl, using clean, dry beaters, beat egg whites until foamy. Then slowly beat in cream of tartar and reserved ½ cup (125 ml) sugar. Beat until stiff peaks form.
Fold half the beaten egg whites into egg yolk batter until well combined. Then gently fold in remaining beaten egg whites into batter just until combined. Do not overmix.
Pour batter into dry tube cake pan with a removable bottom and bake for about 50 to 60 minutes, or until a cake tester inserted in the middle of cake comes out clean. Invert cake pan and let cake cool completely in pan. While cake cools, prepare Orange Curd.
To make ORANGE CURD: In a metal mixing bowl combine 4 egg yolks, sugar, salt, orange zest, orange juice, and lemon juice. Whisk until smooth. Place bowl over a pot of simmering water making sure bottom of bowl doesn't touch water. Stir constantly over simmering water until mixture has thickened enough to coat a metal spoon. Remove from heat and whisk in cubes of cold butter.
Strain mixture through a fine-meshed sieve and press a piece of plastic wrap into surface to prevent skin from forming. Refrigerate until cooled.
When Cake and Curd have completely cooled, in a chilled mixing bowl combine whipping cream, sugar and vanilla and beat with an electric mixer until soft but firm peaks form.
When ready to serve, remove cake from pan and cut horizontally through middle. Drizzle half the Orange Curd over bottom half of cake. Then gently spread half the whipping cream over Curd. Place top half of cake on cream. Spread with remaining whipping cream over top and drizzle with remaining curd. Garnish with candied orange zest and orange segments. Refrigerate until ready to serve.
Drink Pairings