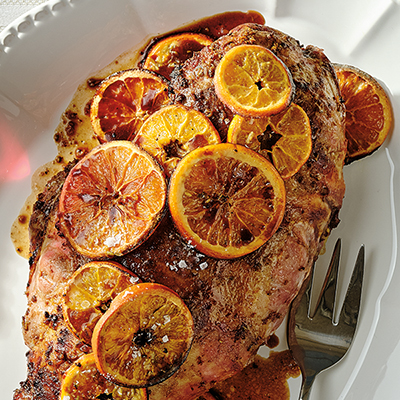 Ingredients
Serves 8
4 lb (2 kg) bone-in leg of lamb, set out at room temperature for 1 hour
2 tsp (10 ml) fennel seeds
4 garlic cloves, divided, minced
¼ cup (60 ml) unsalted butter, room temperature
2 cups (500 ml) packed flat-leaf parsley
2 green onions, trimmed, roughly chopped
½ cup (125 ml) whole blanched almonds
Instructions
Preheat oven to 400 F (200 C).
Using a mortar and pestle, gently pound fennel seeds to break them up a bit. Alternatively, crush under a heavy pot or pan. Transfer to a bowl along with 3 minced garlic cloves, butter, finely grated zest of 1 orange and a good pinch of salt. Stir to combine and set aside.
Pat lamb dry with paper towel and make a dozen or so deep cuts all over meat with point of a sharp knife. Use a teaspoon or finger to push some of butter mixture into cuts, then smear rest all over leg. Place in a roasting pan. Halve the zested orange and squeeze juice over lamb. Thickly slice half of remaining orange and mandarins, peel and all, removing seeds if necessary, and arrange on top of lamb.
Cover roasting pan with tinfoil and roast for 45 minutes. Remove tinfoil, baste leg with any juices in bottom of roasting pan, or, if not much juice is present, use extra orange juice and continue to roast for another 45 minutes to 1 hour for medium rare. An instant-read thermometer, inserted 2-in (5 cm) into thickest part of leg should register 130 F (54 C).
Meanwhile, make parsley sauce. In a food processor, pulse parsley, green onions, remaining garlic and almonds until finely chopped. With motor running, gradually add olive oil. Season with salt and juice from half of remaining orange, to taste. Set aside until ready to serve.
Transfer cooked lamb to a cutting board and allow to rest for 20 to 30 minutes. Slice and serve with parsley sauce on side.
Drink Pairings