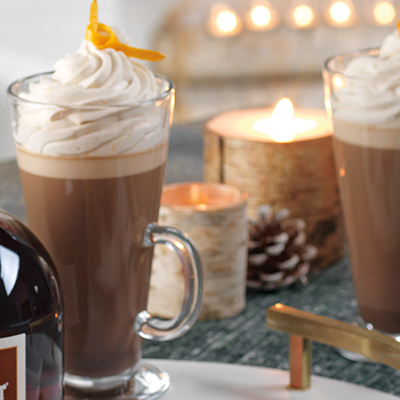 ORANGE-SPICED HOT CHOCOLATE
Ingredients
Serves 4 to 6
8 cups (2 L) homogenized or 2% milk
¼ tsp (1 ml) cayenne or chili powder
1 tbsp (15 ml) grated orange zest
½ lb (250 g) good quality dark chocolate, at least 65% cocoa, grated
¼ cup (60 ml) orange liqueur, like Grand Marnier or Cointreau
Orange Spice Whipped Cream, make ahead, recipe follows
ORANGE SPICE WHIPPED CREAM:
1 cup (250 ml) whipping cream
2 tbsp (30 ml) icing sugar
¼ cup (60 ml) orange juice
½ tsp (2.5 ml) orange zest, freshly grated
Instructions
In a heavy-bottomed saucepan over medium heat, add milk, cloves, cinnamon sticks, cayenne or chili powder, and orange zest, stirring occasionally until scalding. Reduce heat and simmer 5 to 10 minutes to infuse flavours. Remove cloves and cinnamon sticks then stir in grated chocolate and whisk until well blended. Before serving, stir in orange liqueur and serve with a dollop of Orange Spice Whipped Cream.
TO MAKE ORANGE SPICE WHIPPED CREAM: Using an electric beater, whisk whipping cream, icing sugar, cinnamon and nutmeg on high speed until stiff peaks form. Fold in orange juice and zest, cover and refrigerate at least 1 hour before serving.
Featuring