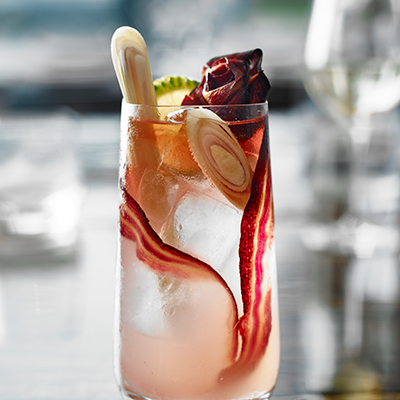 Ingredients
Serves 1
1 oz (30 ml) Beefeater London Dry gin
2 to 4 oz (60 to 125 ml) Granville Island Osake Junmai Nama sake
1 oz (30 ml) Lemon Grass Syrup
½ oz (15 ml) fresh lime juice
4 oz (125 ml) Cold Brewed Jasmine Green Tea
Instructions
Add gin, sake, Lemon Grass Syrup, lime juice and jasmine tea to a shaker. Add ice and shake hard until cold. Strain into a tall glass over ice and top with soda water. Garnish with slivers of lemon grass, heirloom purple carrot and edible flowers, if desired.
For LEMON GRASS SYRUP: Make a 1:1 ratio of sugar to water, approximately 2 cups (500 ml) sugar to 2 cups (500 ml) water in a heavy-bottom saucepan. Chop 1 lemon grass stalk and add to sugar syrup and boil for a couple of minutes. Strain and set aside to cool. Ready to use once cooled.
For COLD BREWED JASMINE GREEN TEA: Add 4 to 5 tbsp (60 to 75 ml) of high-quality Jasmine green tea to a clean 2 L (8 cup) container. Fill container with cold water, cover and steep in fridge overnight. After steeping, stir and strain tea into a clean container.
Featuring