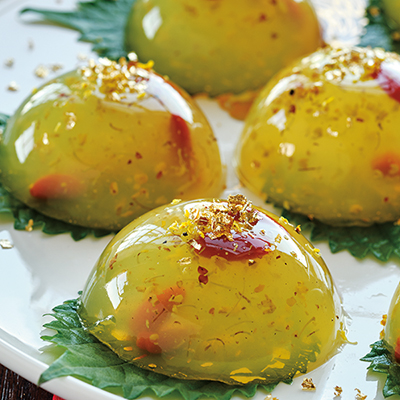 Ingredients
Serves 6 jellies
2 tsp (10 ml) Agar Agar powder
2 tbsp (30 ml) osmanthus flowers
1 tbsp (15 ml) goji berries, rehydrated in hot water for 10 minutes then drained
edible gold leaf, for garnish (optional)
Instructions
In a small saucepan, whisk together agar agar and water. Bring to a boil over high heat, then reduce to medium heat and simmer for 2 minutes. Turn off heat.
Whisk in osmanthus flowers and honey and allow mixture to sit for 5 minutes. Mix in goji berries.
Pour mixture into 2¾-in (7 cm) domed silicon moulds and allow to set in refrigerator for at least 1 hour, or until mixture is firm and can be turned out.
Turn jellies out onto a plate. Place each jelly on a shiso leaf on a serving platter and garnish with edible gold leaf, if using. Jellies can be made a day ahead and kept in moulds, or stored in an airtight container. Serve cold.
Drink Pairings