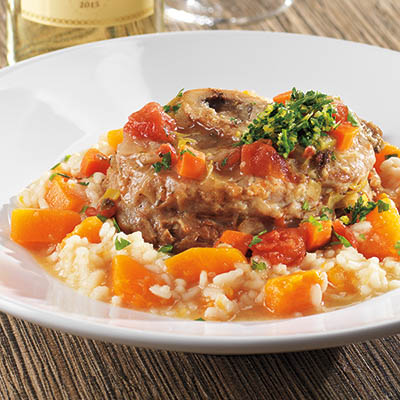 OSSO BUCCO SERVED WITH BUTTERNUT SQUASH RISOTTO
Ingredients
Serves 4
4 veal shanks, cut 1½ to 2-in (3.75 to 5 cm) thick
salt and freshly ground pepper, to taste
½ cup (125 ml) all-purpose flour, for dredging
¼ cup (60 ml) vegetable oil
1 leek, white part only, rinsed and finely chopped
3 medium carrots, peeled, trimmed and cut into ¼-in (0.5 cm) dice
2 celery ribs, trimmed and cut into ¼-in (0.5 cm) dice
1 small red onion, cut into ¼-in (0.5 cm) dice
1 cup (250 ml) crushed canned Italian plum tomatoes
½ tsp (2 ml) fresh lemon zest
2 cups (500 ml) dry white wine
2 cups (500 ml) veal or chicken stock
1 tsp (5 ml) chopped fresh thyme leaves
1 tsp (5 ml) chopped fresh sage leaves
1 tsp (5 ml) chopped fresh oregano
¼ cup (60 ml) finely chopped flat leaf parsley
3 garlic cloves, finely chopped
BUTTERNUT SQUASH RISOTTO:
½ cup (125 ml) unsalted butter, divided
1 medium onion, peeled and finely sliced
2 shallots, finely chopped
1 small butternut squash, peeled, seeded and cut into 1-in (2.5 cm) dice, about 2 to 3 cups (500 to 750 ml)
6 cups (1.5 L) chicken stock
1 lb (500 g) Italian Arborio or Carnaroli rice
freshly ground pepper, to taste
⅓ cup (75 ml) freshly grated Parmesan
sifted cocoa, for garnish
Instructions
Preheat oven to 350 F (180 C).
Season veal with salt and pepper. Spread flour on a plate and dredge shanks, shaking off excess flour.
In a heavy-bottomed ovenproof casserole or Dutch oven, heat vegetable oil over medium heat. Add shanks and cook until lightly browned on both sides, turning once. Transfer to a plate. Remove casserole from heat and carefully clean out.
Add olive oil to casserole and heat over medium heat. Add leek, garlic, carrots, celery and red onion. Cook until vegetables start to soften, about 3 minutes. Stir in tomatoes, lemon zest, white wine, stock and herbs. Add shanks and bring to a simmer. Cover and bake about 2½ hours or until meat is fork-tender and falling off the bone. Season to taste. Garnish with Gremolata.
To make GREMOLATA: Using a vegetable peeler, remove peel in long strips from lemon. Mince peel into small bowl.
Mix in parsley, garlic and olive oil. Cover and refrigerate.
To make BUTTERNUT SQUASH RISOTTO: In a large, heavy-bottomed saucepan, melt half the butter along with olive oil. Add sliced onions and shallots to saucepan and gently sauté for 10 minutes, stirring occasionally, until they start to soften. Add squash and stir. Cover and cook for 5 minutes, or until squash is soft and breakable.
In a large saucepan, bring stock to a rolling boil, then reduce heat to a low simmer.
Add rice to onion-and-squash mixture and stir to mix. Add a ladle or two of simmering stock to rice and stir. As soon as rice has absorbed stock, add more, repeating with a little hot stock, as it absorbs. Rice is done when it is al dente, with a bit of bite in centre of grain. Risotto should be thick, but slightly soupy.
Remove from heat and immediately stir in remaining butter, freshly ground pepper and Parmesan. Transfer to warm serving dishes and garnish with sifted cocoa. Serve immediately.
Drink Pairings