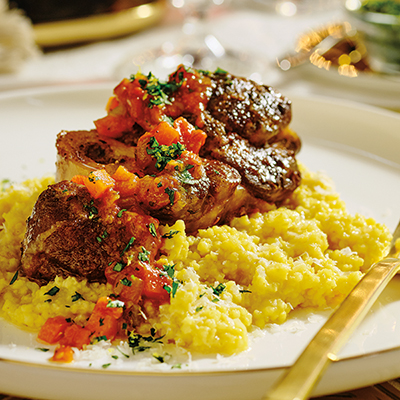 OSSO BUCO WITH MILLET "RISOTTO"
Ingredients
Serves 4
5 tbsp (75 ml) grapeseed oil, divided
4 veal osso buco, each about 1-in (2.5 cm) thick, tied around middle
kosher salt and black pepper, to taste
1½ tbsp (22 ml) all-purpose flour
1 medium yellow onion, finely chopped, divided
½ tsp (2.5 ml) dried thyme leaves
½ tsp (2.5 ml) dried rosemary leaves
2½ garlic cloves, minced, divided
2 cups (500 ml) dry white wine, divided
2 cups (500 ml) canned plum tomatoes
6 cups (1.5 L) low sodium chicken stock, divided
1 large pinch saffron threads
2 tbsp (30 ml) unsalted butter
6 tbsp (90 ml) finely grated Parmigiano-Reggiano
¼ cup (60 ml) chopped flat-leaf parsley leaves
1 tsp (5 ml) finely grated lemon zest
Instructions
To make Osso Buco, in a large sauté pan or small Dutch oven, warm 3 tbsp (45 ml) oil over medium heat. Generously season veal with salt and pepper, then sprinkle flour all over and pat into meat. Place veal in pan and brown well on both sides, about 2 minutes per side. Remove to a plate and set aside.
Add carrot, celery and half the onion to pan over medium heat, and cook, stirring often, until onion has softened and is transparent, about 4 minutes. Stir in thyme, rosemary and 1 clove minced garlic, then add 1 cup (250 ml) white wine and cook until wine is reduced by half, about 5 minutes. Add tomatoes and crush with a fork or potato masher, then add 2 cups (500 ml) stock and bay leaf. Bring to a simmer, then nestle veal into sauce. Cover, reduce heat to low and gently simmer until veal is tender, about 75 to 90 minutes. Check occasionally to make sure veal is at least ¾ covered with liquid; if not, simply top up with water. Once done, remove and discard bay leaf and gently transfer veal to a plate with a slotted spoon and set aside.
Pour remaining sauce into a large bowl. Allow to sit for 5 minutes, then spoon as much fat off top as possible. Wipe out sauté pan or Dutch oven and pour sauce back in. Bring to a boil over high heat. Cook, stirring often, until thickened, about 8 to 10 minutes. Cut string off veal and return meat to sauce. Remove from heat, cover and keep warm.
To make "Risotto", in a small saucepan, bring remaining 4 cups (1 L) stock to a simmer over medium heat. Add saffron, remove from heat and set aside to steep.
In a medium saucepan, warm remaining 1 tbsp (15 ml) oil over medium heat. Add remaining onion and one minced garlic clove. Cook, stirring often, until softened, about 4 minutes. Add millet and let cook, stirring often, until starting to toast, about 2 minutes. Stir in remaining 1 cup (250 ml) wine and let cook for 1 minute. Add warm stock, about ½ cup (125 ml) at a time, stirring often, adding more stock once it has been absorbed; this will take about 30 minutes total. Once millet is al dente, remove from heat and stir in butter and Parmigiano-Reggiano. Season to taste with salt and pepper.
In a small bowl, combine parsley, lemon zest and remaining half minced garlic clove to make gremolata. Set aside.
To serve, spoon "Risotto" into four shallow bowls. Top each serving with a piece of osso buco and spoon sauce over top. Sprinkle with gremolata and serve.
Drink Pairings