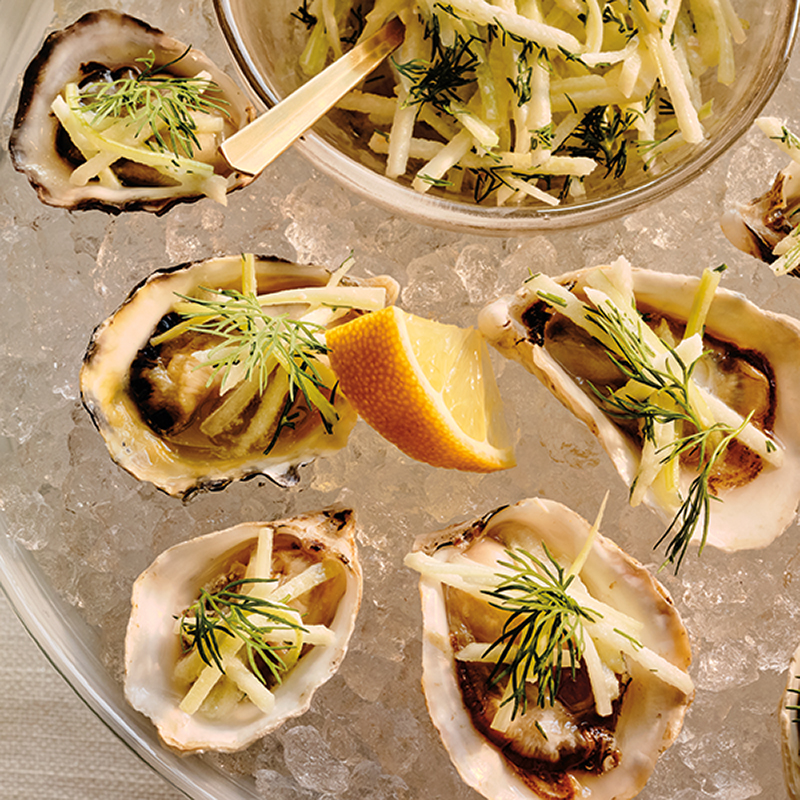 OYSTERS ON THE HALF SHELL WITH APPLE HORSERADISH DILL SLAW
Be the toast of the town this New Year's by throwing a gathering full of inspired bites that are not only delicious, but also easy to whip together as well. All that will be left is to pop a bottle of Champagne and toast to the New Year.
Ingredients
Serves Serves 6
1 large Granny Smith apple
1 tsp (5 ml) prepared horseradish
½ tsp (2 ml) apple cider vinegar
2 tsp (10 ml) crème fraîche or sour cream
1 tbsp (15 ml) chopped fresh dill, plus extra for garnish
12 oysters of your choosing
Instructions
Peel, quarter and core apple. Using a mandoline or sharp knife, slice apple quarters paper thin. Stack slices, a few at a time, and cut them into thin julienne. Cut celery into 1-in (2.5 cm) long pieces and then into thin julienne.
In a large bowl, add julienne apple and celery along with horseradish, apple cider vinegar, crème fraîche and dill. Toss gently until well combined. Refrigerate while preparing oysters.
Scrub shells of oysters with a stiff-bristled brush and rinse thoroughly under cold running water. Discard any oysters that are not closed.
To shuck oysters, working with 1 oyster at a time, grip it, flat-side up, with a folded tea towel to protect your hand. Positioning an oyster knife to one side of hinge, push tip between shells and twist and pry upward to open. Keeping blade of oyster knife firmly against top flat shell, run it around the perimeter of the oyster to sever muscle holding shell halves together. Discard top shells. Run knife underneath oyster to free it from bottom shell, being careful not to spill juice, then set oyster in its shell on a plate. Repeat with remaining oysters.
To serve, pour a layer of crushed ice onto a platter. Arrange oysters on top of ice, taking care not to spill their juices. Divide apple horseradish slaw overtop each oyster and garnish with a sprig of dill. Serve immediately.
Drink Pairings