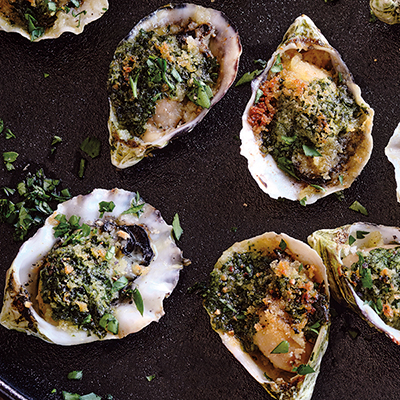 Ingredients
Serves 4-6
½ cup (125 ml) unsalted butter, room temperature
2 garlic cloves, finely minced
1 tsp (5 ml) finely grated lemon zest
1 cup (250 ml) packed parsley leaves and tender stems, finely minced
1 tsp (5 ml) fleur de sel
¼ tsp (1 ml) finely ground black pepper
¾ cup (175 ml) plain bread crumbs
Instructions
Arrange oven rack in upper third of oven and turn on broiler.
In a medium bowl, stir together butter, garlic, lemon zest, parsley, fleur de sel, pepper and nutmeg with a wooden spoon or rubber spatula until it forms a smooth paste.
Carefully shuck oysters and arrange in an ovenproof dish or rimmed baking sheet. Place 1 tsp (5 ml) butter mixture on top of each oyster and sprinkle generously with bread crumbs.
Place under broiler and, keeping a close eye on oysters, broil until butter is bubbly and bread crumbs are golden, about 5 minutes. Transfer to a serving platter or plates and serve warm.
Drink Pairings