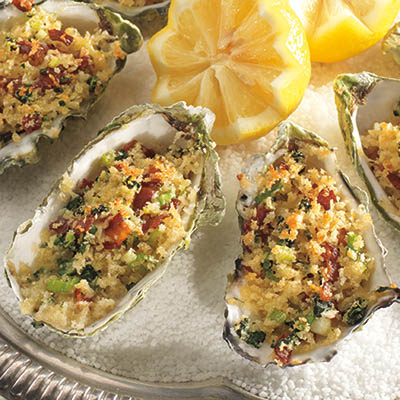 OYSTERS ROCKEFELLER WITH PANCETTA AND PANKO CRUST
Ingredients
Serves 2
3 tbsp (45 ml) extra-virgin olive oil, divided
2 slices pancetta, coarsely chopped
8 medium-sized fresh oysters in the shell, unopened
¾ cup (175 ml) cooked spinach, well-drained (fresh spinach, blanched until wilted)
⅓ cup (75 ml) panko bread crumbs
3 tbsp (45 ml) grated Parmesan cheese
1 green onion, finely chopped
½ tsp (2 ml) anise-flavoured liqueur
4 cups (1 L) kosher salt, for baking
Instructions
Preheat oven to 450 F (230 C).
Heat 1 tbsp (15 ml) oil in a small frying pan over medium-high heat. Add pancetta and stir-fry until evenly brown. Drain on paper towels and set side.
Clean oysters and place in a large saucepan. Add enough water to cover oysters and bring to a boil. Remove from heat and cool oysters. When cooled, shuck off the top shell from each oyster.
Add pancetta, spinach, panko, Parmesan, green onion, salt, hot sauce, remaining 2 tbsp (30 ml) olive oil and liqueur to the bowl of a food processor fitted with a metal blade. Pulse until finely chopped but not puréed, about 5 to 7 seconds.
Spread salt in a 9 x 13-in (3.5 L) baking dish. Arrange oysters in their half shells on top of salt in a single layer. Top each oyster with spinach mixture. Bake until cooked through, about 10 minutes, then change oven to broil and cook until spinach topping is browned.
Drink Pairings