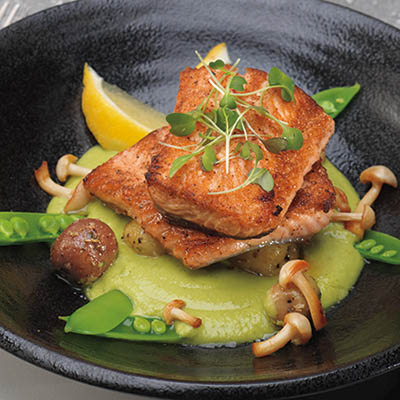 PAN-SEARED STEELHEAD WITH PEA PURÉE
Ingredients
Serves 4
½ lb (250 g) small, assorted coloured baby potatoes
1 tbsp (15 ml) unsalted butter
½ tsp (2 ml) minced fresh thyme
2 cups (500 ml) frozen peas
½ cup (125 ml) chicken or vegetable stock
1 tbsp (15 ml) truffle oil
1 tsp (5 ml) finely grated lemon zest
1 garlic clove, smashed and minced
½ tsp (2 ml) each salt and black pepper
1 tbsp (15 ml) unsalted butter
¼ cup (50 ml) enoki mushrooms
4 x 4 oz (120 g) steelhead trout fillets, boned and halved crosswise
¼ cup (50 ml) sugar snap peas, blanched
¼ cup (50 ml) micro greens, for garnish
Instructions
To make POTATOES: Boil potatoes in salted water until tender. Drain and return to saucepan. Toss with butter and seasonings. Cover and set aside.
To make PEA PURÉE: Blanch peas for a minute or two with boiling water just until thawed. Strain and place in a blender along with remaining ingredients. Blend until very smooth. For a creamier texture, press mixture through a fine-meshed sieve into a small saucepan. Cover and set aside.
To make STEELHEAD: Preheat oven to 325 F (165 C). In an ovenproof frying pan, heat 1 tbsp (15 ml) butter over medium-high heat until very hot. Add mushrooms and sauté until golden. Season with salt and pepper and remove with a slotted spoon to a dish and set aside.
Add oil to hot frying pan. Add fillets, skinside down, and sear over medium-high heat until skin is crispy. Gently flip fillets and place pan in oven. Bake for another 2 to 3 minutes or just until fish is cooked in the centre.
Toss potatoes over medium heat until warm, and gently warm Pea Purée. Spoon purée in centre of a shallow serving bowl. Position potatoes on top in centre of purée. Stack 2 pieces seared salmon on top of potatoes. Scatter mushrooms alongside with blanched peas. Garnish with a few micro greens and serve immediately.
Drink Pairings