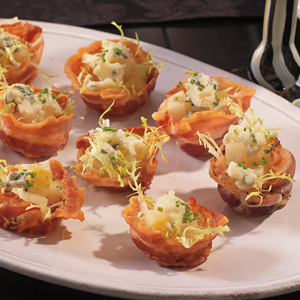 PANCETTA CUPS WITH PICKLED PEAR AND BLUE CHEESE
A rich and zesty appetizer that will inspire praise at your next mingler!
Ingredients
Serves Serves 12
Instructions
In a small saucepan over high heat stir together vinegar, water, salt, sugar, ginger, coriander and black peppercorns to make pickling liquid. Bring mixture to a boil, reduce heat and simmer for 5 minutes. Remove saucepan from heat and let cool until lukewarm. Place pear in a non-metallic bowl or Mason Jar and pour warm liquid overtop. Let cool completely at room temperature before refrigerating for at least 4 hours or overnight.
When ready to assemble, preheat oven to 400 F (200 C). Press a slice of pancetta into each cup of a mini muffin tin. On top of pancetta, to help keep their shape while baking, ball up a small piece of aluminum foil and place into each cup. Bake until crisp, about 10 to 12 minutes. Carefully remove pancetta from muffin tin and discard aluminum foil. Place on a paper towel-lined wire rack to cool. Just before serving, set pancetta cups on a serving tray. Fill each with some frisée lettuce, a small spoonful of drained pickled pears and a sprinkling of Stilton or blue cheese. Garnish with chopped fresh chives, if desired.
Drink Pairings