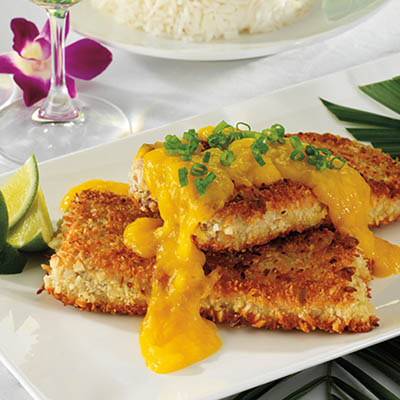 PANKO, COCONUT AND MACADAMIA NUT CRUSTED MAHI MAHI WITH PASSION FRUIT SAUCE
Ingredients
Serves 6
⅔ cup (175 ml) frozen passion fruit pulp, thawed, or pulp from 3 to 4 fresh ripe passion fruits
1 tbsp (15 ml) lime juice
¼ cup (60 ml) cider vinegar
2 tbsp (30 ml) granulated sugar
1 garlic clove, finely chopped
1 tsp (5 ml) finely minced ginger root
6 x 5 oz (150 g) mahi mahi fillets (or substitute halibut, snapper or other flaky fish)
1 cup (250 ml) pineapple juice
1 cup (250 ml) all-purpose flour
½ cup (125 ml) Japanese-style panko bread crumbs
⅓ cup (75 ml) unsweetened shredded coconut
¼ cup (60 ml) finely chopped macadamia nuts
¼ tsp (1 ml) black pepper
2 tbsp (30 ml) canola oil, plus extra
Instructions
If using fresh passion fruit, cut each in half and scrape pulp into a microwavesafe bowl. Heat for 30 seconds. Strain pulp through a fine-meshed sieve, pressing with a spoon to extract all the pulp and juice from the seeds. Discard seeds and reserve juice.
Place pulp, lime juice, cider vinegar, sugar, garlic and ginger in a medium-sized saucepan. Bring to a boil over medium heat. Simmer for about 5 minutes or until sauce reduces and thickens. Remove and set aside.
Place fish fillets in a heavy re-sealable plastic bag along with pineapple juice. Prepare three bowls for coating fish fillets, one with flour, one with beaten eggs and one with a mixture of panko, coconut, macadamia nuts, salt, pepper and paprika.
Remove fish from pineapple juice and coat each fillet in flour on all sides. Then coat well in eggs. Then transfer and dip into the panko/coconut/nut mixture until thoroughly coated all over.
Heat a non-stick frying pan over medium-high heat. Add 2 tbsp (30 ml) canola oil. Fry 2 to 3 minutes on each side or until crisp and golden brown, and fish is flaky. Remove and repeat with remaining breaded fish, adding extra oil as needed.
Serve fish immediately, topped with spoonfuls of Passion Fruit Sauce.
Drink Pairings