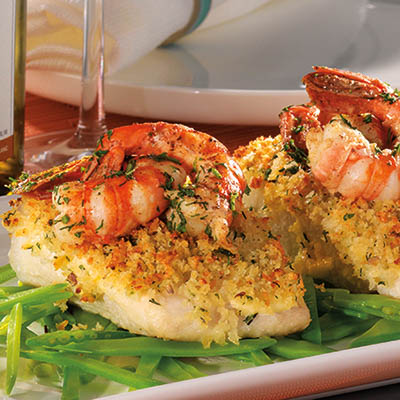 PANKO-CRUSTED HALIBUT WITH GARLIC AND HERB SPOT PR AWNS
Ingredients
Serves 4
4 x 6 oz (180 g) halibut fillets, skin removed
3 tbsp (45 ml) olive oil, divided
2 lemons, juice only, divided
salt and freshly ground black pepper, to taste
1 lemon, zest only, finely chopped, divided
1 cup (250 ml) panko bread crumbs
4 tbsp (60 ml) grated Parmesan
2 tbsp (30 ml) finely minced shallot
1½ tbsp (22 ml) finely chopped fresh chives
3 tbsp (45 ml) finely chopped fresh parsley, divided
2 tbsp (30 ml) finely chopped fresh dill, divided
4 tbsp (60 ml) melted butter, divided
1 large clove garlic, finely minced
12 large spot prawns, headed and peeled
2 tbsp (30 ml) dry white wine
Instructions
Preheat oven to 400 F (200 C). Line a baking sheet with aluminum foil and place a baking rack on top. Coat rack with non-stick cooking spray.
Drizzle 1½ tbsp (22 ml) olive oil and half the lemon juice on halibut and season with salt and pepper. Divide and spread mayonnaise over top of each fillet and place on baking rack.
In a mixing bowl, add half the lemon zest, panko bread crumbs, Parmesan, shallot, salt, pepper, chives and half the parsley, dill and butter. Evenly press topping on each fillet. Bake for 12 to 15 minutes or just until cooked through or until flaky.
While fish is baking, heat a medium-sized frying pan over medium-high heat. When hot, add remaining 1½ tbsp (22 ml) olive oil and remaining melted butter. Add garlic and sauté. When fragrant, add prawns and remaining herbs, remaining lemon zest and juice and white wine. Sauté until just opaque and pink.
To serve, remove fish from oven and transfer onto warm serving plates. Top fish with a couple of sautéed prawns. Drizzle with any remaining pan juices.
Drink Pairings