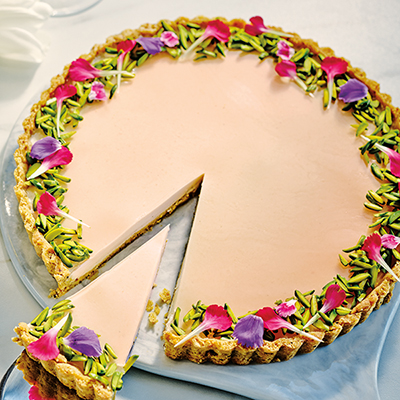 Panna Cotta Tart with Rhubarb Gin Gelée
Ingredients
Serves 10 to 12
3½ oz (100 g) shelled raw pistachios, plus extra for garnish
1¼ cups (310 ml) all-purpose flour, plus extra for dusting
⅓ cup (75 ml) icing sugar
½ tsp (2.5 ml) + 1 pinch fine sea salt, divided
½ cup (125 ml) chilled unsalted butter, cut into cubes
1 to 2 tbsp (15 to 30 ml) ice water
1 large egg, lightly beaten
1 cup (250 ml) whole milk
2 tsp (10 ml) + 1¼ tsp (6 ml) powdered gelatin, divided
2 tbsp + 2 tsp (40 ml) granulated sugar
½ vanilla bean, split and seeds scraped out
½ cup (125 ml) whipping cream
1 cup (250 ml) finely chopped rhubarb (about 1 large stalk)
edible flowers, for garnish (optional)
Instructions
Preheat oven to 350 F (180 C). Line base of a 9-in (23 cm) fluted tart pan with removable bottom with a round of parchment paper.
To make tart shell, in bowl of a food processor fitted with steel blade attachment, pulse 3½ oz (100 g) pistachios until very finely chopped. Add flour, icing sugar and ½ tsp (2.5 ml) salt, then pulse until well combined. Add butter and pulse until mixture resembles large breadcrumbs. Add 1 tbsp (15 ml) ice water and pulse until mixture forms large clumps. If mixture is not coming together, add more ice water, 1 tsp (5 ml) at a time, as needed. Tip pastry dough out onto a piece of parchment paper or plastic wrap and use it to help press dough together into a flat disc. Wrap and refrigerate for at least 30 minutes and up to 2 hours.
Dust a large piece of parchment paper with flour and place chilled dough on top. Lightly dust top of dough with flour, then roll out into a large circle, about ⅛-in (0.25 cm) thick. Using parchment paper, flip dough into tart pan, gently guiding dough into edges of pan. Pull away paper and fix any gaps or tears that may have formed in dough. Trim overhanging dough to ½-in (1.25 cm) above lip of pan and allow excess pastry to stand straight up. Reserve dough trimmings for later use, setting aside at room temperature. Prick base of tart shell all over with a fork and place in freezer for 15 minutes.
Line shell with parchment paper and pie weights (dried beans or rice also work). Bake for 20 minutes, until starting to brown and firm up around edges. Using parchment paper, transfer pie weights to a heatproof bowl to cool, or remove dried beans or rice and discard (or reserve for future blind baking). Using a sharp knife, cut away any excess pastry above lip of pan. Use thin pieces of reserved pastry dough to patch any cracks or gaps in shell. Brush all over inside of shell with beaten egg and bake for 15 minutes more, until dry and lightly browned. Cool to room temperature in pan on a wire rack, then place cooled tart shell in pan in freezer while making panna cotta.
To make panna cotta, pour milk into a small saucepan and sprinkle over 2 tsp (10 ml) gelatin. Set aside and allow gelatin to bloom for 5 minutes. Then heat saucepan over medium-low heat, stirring occasionally, until gelatin has dissolved, about 3 to 4 minutes. Add sugar and vanilla seeds, stirring until sugar has dissolved, about 2 minutes more. Take care that milk mixture never comes to a simmer. Remove from heat and stir in cream and a pinch of salt. Pour about ½ cup (125 ml) panna cotta mixture into frozen tart shell and swirl around to coat bottom. Return to freezer for 10 minutes, then place tart shell on a baking sheet, stir remaining panna cotta mixture and pour into tart shell. Refrigerate until set, about 2 hours.
Meanwhile, make rhubarb gin gelée. Pour ¾ cup (175 ml) water and gin into a small saucepan and sprinkle over remaining 1¼ tsp (6 ml) gelatin. Set aside and allow gelatin to bloom for 5 minutes.
Heat saucepan over medium-low heat and stir in rhubarb. Bring to a simmer and cook, stirring often, until rhubarb is very soft, about 8 minutes. Strain through a fine mesh strainer into a liquid measuring cup, pressing down lightly on rhubarb to extract as much liquid as possible. Discard remaining solids. Let gelée come to room temperature, stirring occasionally; this should take about 25 minutes. Stir and pour over cold panna cotta tart layer and return to refrigerator to allow gelée to set for about 1 hour and up to 3 hours.
To serve, carefully remove tart from pan and transfer to a serving platter. Garnish with chopped pistachios and edible flowers, if desired. Cut into slices and serve. Tart is best eaten the day it is made, but leftovers may be refrigerated for up to 2 days.
Drink Pairings