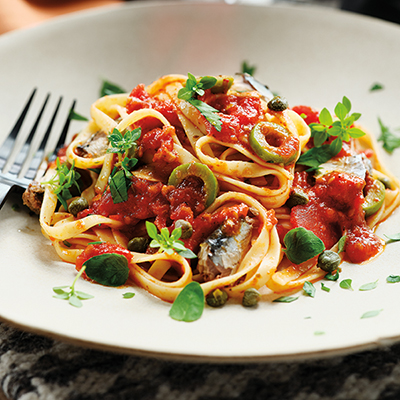 Ingredients
Serves 2
3 tbsp (45 ml) grapeseed oil
1 garlic clove, thinly sliced
2 anchovy fillets, chopped
¼ tsp (1 ml) red pepper flakes
1 cup (250 ml) dry white wine
1 x 28 oz (796 ml) can plum tomatoes
¼ cup (60 ml) pitted Castelvetrano or green olives, sliced into rounds
2 tbsp (30 ml) drained capers
1 tsp (5 ml) dried oregano
1 tin sardines in oil (preferably Spanish), cut into chunks
2 tbsp (30 ml) chopped flat leaf parsley leaves
Instructions
In a large skillet or frying pan, heat oil over medium-low heat. Add garlic and cook, stirring constantly, until starting to brown, about 3 minutes. Stir in anchovies and cook until dissolved, about 1 minute. Stir in red pepper flakes and wine. Increase heat to medium and cook, stirring occasionally, until wine is reduced by half, about 6 minutes.
Add tomatoes and break them up using a wooden spoon. Bring sauce to a simmer, then add olives, capers and oregano. Simmer, uncovered, over medium-low to medium heat, stirring occasionally, until lightly thickened, about 20 minutes. Fold in sardines and set aside.
Meanwhile, bring a large saucepan of salted water to a boil over high heat. Cook fettuccini according to package instructions. Drain pasta, reserving about 1 cup (250 ml) cooking water. Add fettuccini to skillet containing sauce, return to medium-low heat and gently toss together. Add reserved cooking water as needed to reach desired sauce consistency. Divide between serving plates or bowls and garnish with fresh parsley.
Drink Pairings