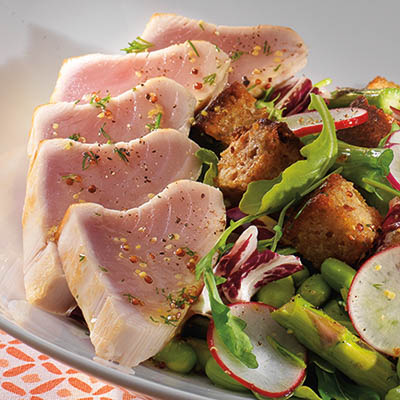 PANZANELLA AND TUNA SALAD
Ingredients
Serves 4
5 thick slices rye bread or pumpernickel bread, cut into 1-in (2.5 cm) cubes
3 tbsp + ¼ cup (105 ml) extra-virgin olive oil, divided, plus extra
6 green onions, roots trimmed
salt and freshly ground pepper, to taste
1 bunch fresh asparagus, tough ends trimmed
1 lb (500 g) Albacore tuna loin
2 tbsp (30 ml) chopped fresh dill
2 tbsp (30 ml) white balsamic vinegar
1½ tbsp (22 ml) grainy mustard
1 cup (250 ml) cooked and shelled edamame or fava beans
4 radishes, thinly sliced
1 cup (250 ml) baby arugula
½ medium head radicchio, cut into thick ribbons
Instructions
Preheat oven to 350 F (180 C). Place a baking sheet in oven to warm while preheating.
In a large bowl, to make croutons, toss bread cubes with 3 tbsp (45 ml) oil. Scatter in a single layer on warmed baking sheet and bake until crisp, about 8 to 10 minutes, tossing croutons halfway through cooking time. Allow to cool on baking sheet while preparing rest of salad.
Heat grill or grill pan over mediumhigh heat. Drizzle some oil over green onions and season with salt before grilling until lightly charred, about 2 to 3 minutes. Transfer to a cutting board and cut into 1-in (2.5 cm) pieces. Repeat grilling process with asparagus and cut into 1-in (2.5 cm) pieces. Brush tuna loin with oil and season with salt and pepper. Grill for 2 to 3 minutes per side, searing outside but keeping tuna raw in middle. Transfer to a plate and refrigerate until ready to serve.
In a small bowl, make dressing whisking together ¼ cup (60 ml) oil with dill, vinegar, mustard and maple syrup until well combined. Season to taste with salt and pepper.
When ready to serve, toss croutons with 2 tbsp (30 ml) dressing. Add grilled green onions, asparagus, edamame (or fava) beans, radishes, arugula and radicchio and a drizzle of 1 to 2 tbsp (15 to 30 ml) more dressing. Toss gently to combine. Divide salad among serving plates. Slice chilled tuna into ½-in (1.25 cm) slices. Lay a couple of slices on each salad and garnish with an extra drizzle of dressing, if desired. Serve immediately.
Drink Pairings