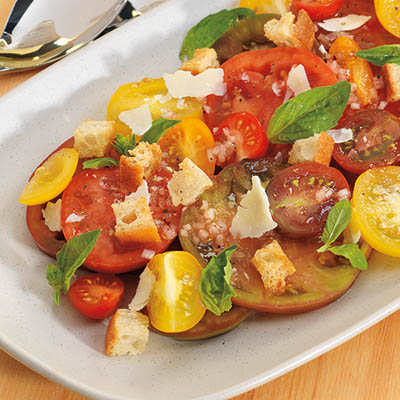 Ingredients
Serves 4
4 tbsp (60 ml) extra-virgin olive oil
1 tbsp (15 ml) red wine vinegar
1 pinch freshly ground pepper
1 tsp (5 ml) capers, finely chopped
1 tsp (5 ml) red onion, finely chopped
½ cup (125 ml) ciabatta bread, cubed ½-inch (1.25 cm)
1 lb (500 g) heirloom tomatoes, wedged and sliced
2 tbsp (30 ml) Parmigiano Reggiano cheese, shaved
1 small handful basil leaves
Instructions
To make DRESSING: Mix all ingredients and set aside.
To make SALAD: Preheat oven to 375 F (190 C). Toss ciabatta with garlic and olive oil, place on a parchment paper-lined baking tray and bake for about 10 minutes, stirring occasionally or until ciabatta is golden brown. Remove from oven and cool.
Lay tomatoes on a platter, drizzle with dressing and garnish with ciabatta croutons, Parmigiano Reggiano, and basil.
Drink Pairings