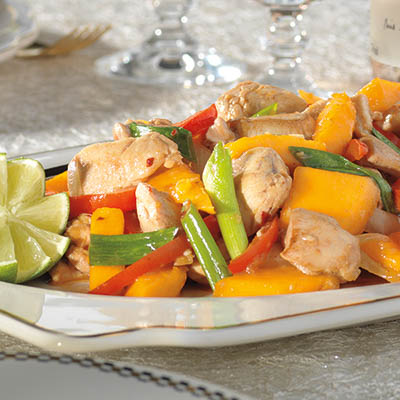 PAPAYA AND CHICKEN STIR-FRY
Ingredients
Serves 4 to 6
1 tbsp (15 ml) + 2 tsp (10 ml) soy sauce, divided
½ tsp (2 ml) + 1 tsp (5 ml) cornstarch, divided
1 lb (500 g) mix of boneless chicken breast and thigh meat, cut into 2-inch (5 cm) strips
2 tbsp (30 ml) vegetable oil
1 tbsp (15 ml) minced ginger
2 garlic cloves, finely minced
1 medium onion, thickly sliced
1 red pepper, seeded and cut into thin ½-inch (1.25 cm) julienne
½ tsp (2 ml) dried red chili flakes
2 tsp (10 ml) hoisin sauce
½ cup (125 ml) fresh orange juice
1½ lb (500 g) ripe papayas, peeled, seeded and cut into 3 x ½-inch (7.5 x 1.25 cm) strips
2 green onions, cut into 2-inch (5 cm) pieces
1 tbsp (15 ml) fresh lime juice
salt and freshly ground black pepper
Instructions
In a medium bowl, mix together 1 tbsp (15 ml) soya sauce, sherry and ½ tsp (2 ml) cornstarch. Add chicken and toss well to coat. Set aside.
Heat oil in a wok or large skillet over medium-high heat. Add ginger, garlic and onion and stir-fry for 30 seconds. Add the marinated chicken and stir-fry for 5 minutes. Add red pepper and red chili flakes and continue stir-frying until chicken is cooked through and red peppers soften, about 3 minutes. Using a slotted spoon, transfer the chicken and peppers to a plate.
Mix the remaining cornstarch, hoisin sauce and orange juice and add to skillet. Bring to a boil until slightly thickened, about 2 minutes. Return the chicken and peppers to the wok, along with the papaya and green onions, and stir-fry until hot, about 1 minute. Add lime juice and season. Transfer to a warm platter.
Drink Pairings