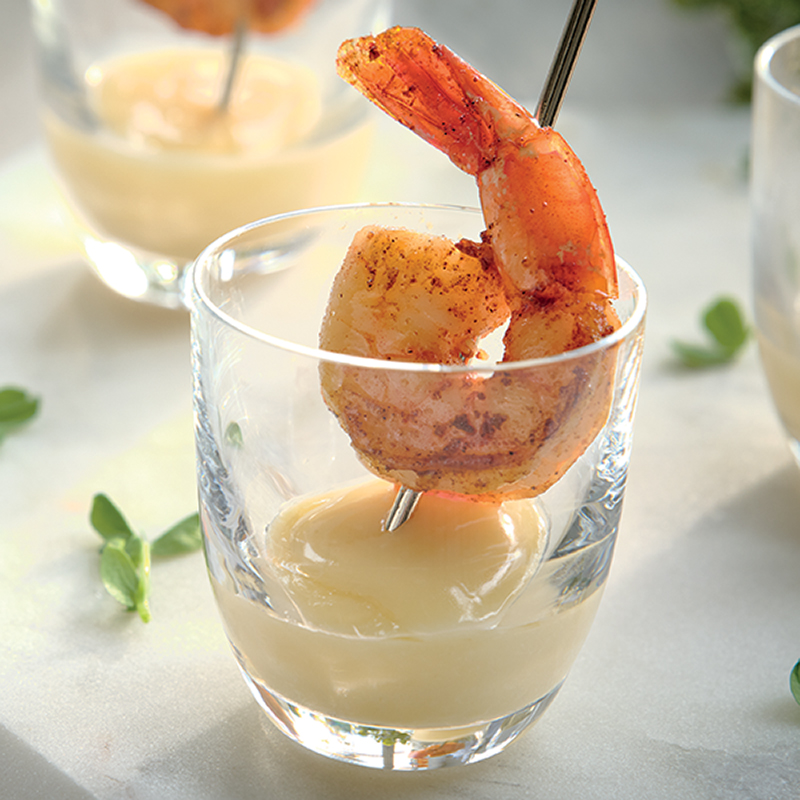 Paprika Prawns with Beurre Blanc
Ingredients
Serves 24 servings
24 prawns, tail on, deveined, washed and dried
1 tbsp (15 ml) paprika, divided
¼ cup (60 ml) vegetable oil, divided
¼ tsp (1 ml) chili flakes (optional)
salt and pepper, to taste
3 tbsp (45 ml) white vinegar, divided
3 tbsp (45 ml) finely chopped shallots
3 tbsp (45 ml) white wine vinegar
¼ cup (60 ml) dry white wine
3 tbsp (45 ml) heavy cream
1 cup (250 ml) butter, cut into 1½ x ¾-in (3.75 x 2 cm) cubes, chilled
1 pinch white pepper (optional)
thyme sprigs, parsley or microgreens, for garnish (optional)
Instructions
Spread prawns on a baking sheet lined with paper towel. Sprinkle ½ tbsp (7.5 ml) paprika over prawns.
In a large frying pan, heat 2 tbsp (30 ml) oil over high heat. Evenly spread out 12 prawns (they should not be touching) in pan and fry for about 1 to 2 minutes, until surface is barely translucent. Add half the chili flakes, if using. Sprinkle ¼ tbsp (3.75 ml) paprika over prawns and flip. Fry for 30 seconds to 1 minute. Season with salt and pepper, turn off heat and immediately add 1½ tbsp (22 ml) white vinegar carefully, as it can sputter and steam. Lightly toss prawns in pan and transfer to shallow bowl. Carefully wipe out pan with a clean, damp cloth and repeat.
To make Beurre Blanc, in a small saucepan over medium heat, bring shallot, white wine vinegar and white wine to a gentle boil and reduce to approximately ⅓ of volume, about 3 to 5 minutes. Add cream and whisk lightly until incorporated. Add 2 cubes chilled butter and whisk until melted. Repeat, whisking 2 cubes at a time, until butter is fully incorporated. Remove from heat and season with white pepper, if using.
Using a chinois or fine mesh sieve, strain Beurre Blanc to remove shallots, and discard shallots. Keep warm until ready to serve.
To serve, pour desired amount of warm Beurre Blanc into 24 small serving glasses. Skewer prawns on serving picks. Place a prawn into each glass and garnish with thyme, parsley or microgreens, as desired.
Drink Pairings