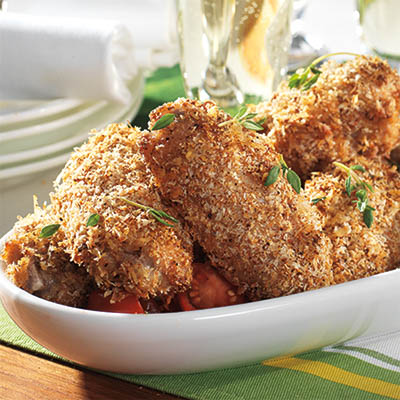 Ingredients
Serves 6 to 8
1 cup (250 ml) finely grated fresh Parmesan
1 cup (250 ml) panko or regular bread crumbs
1 tsp (5 ml) chili powder
2 tsp (10 ml) onion powder
freshly ground black pepper, to taste
2 large eggs, lightly beaten
1 tbsp (15 ml) finely chopped fresh thyme, for garnish
Instructions
Preheat oven to 350 F (180 C). Line a baking sheet with parchment paper and place a cooling rack on it. Spray rack with cooking spray. Pat chicken wings dry with paper towels.
In a shallow bowl, mix cheese, panko or bread crumbs, paprika, chili and onion powder until well combined. In another bowl, mix eggs and milk.
Dip each wing in egg mixture and then in cheese mixture. Place wings on cooling rack in a single layer.
Bake for 50 to 55 minutes until golden and cooked through. Remove from oven, set on a serving platter and sprinkle with thyme. Wings can be served hot or at room temperature.
Drink Pairings