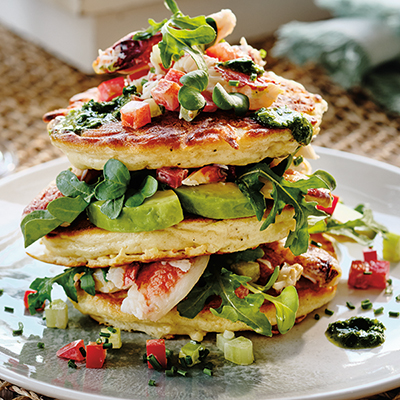 Parsnip Pancakes served with Crab Salad and Salsa Verde
Ingredients
Serves 4 to 6
¼ cup (60 ml) basil leaves
¼ cup (60 ml) cilantro leaves
¼ cup (60 ml) flat leaf parsley leaves
1 green onion, trimmed and roughly chopped
¼ cup (60 ml) extra-virgin olive oil
1 tbsp (15 ml) + 1 tsp (5 ml) lemon juice, divided
salt and pepper, to taste
2 tbsp (30 ml) sour cream
2 tbsp (30 ml) mayonnaise
½ tsp (2.5 ml) Dijon mustard
½ lb (227 g) cooked crab claw meat
1 stalk celery, finely diced
½ medium red pepper, diced
4 tsp (20 ml) finely chopped chives
¾ cup (175 ml) whole milk
1 cup (250 ml) all-purpose flour
1 tbsp (15 ml) baking powder
1 tsp (5 ml) granulated sugar
¼ tsp (1 ml) each salt and pepper
1½ cups (375 ml) peeled and grated parsnips (about 3 medium parsnips)
1 tbsp (15 ml) grapeseed oil, plus extra as needed, for frying
1 cup (250 ml) baby greens
Instructions
To make salsa verde, in a blender, combine basil, cilantro, parsley, green onion, olive oil and 1 tbsp (15 ml) lemon juice. Blend until a chunky sauce is formed. Season to taste with salt and pepper. Transfer to an airtight container and refrigerate until ready to use, up to 4 days.
To make crab salad, in a small bowl, whisk together sour cream, mayonnaise, mustard and remaining 1 tsp (5 ml) lemon juice. Season to taste with salt and pepper. Set dressing aside.
In a medium bowl, lightly toss together crab, celery, red pepper and chives. Add dressing and gently toss together until crab is just coated in mixture. Season with salt and pepper to taste. Refrigerate until ready to serve, up to 4 hours.
To make pancakes, in a medium bowl, whisk together milk and eggs. Set aside.
In a large bowl, whisk together flour, baking powder, sugar and ¼ tsp (1 ml) each salt and pepper. Stir in milk mixture and parsnips until just combined.
In a large nonstick frying pan, warm 1 tbsp (15 ml) oil over medium heat. Measure ¼ cup (60 ml) of batter per pancake into pan, slightly spreading batter and gently flipping pancakes when edges are golden brown and bubbles form on surface, about 2 minutes. Cook until golden brown on underside and cooked through, about 2 minutes more. Repeat with remaining batter. Makes 11 to 12 pancakes.
To serve, divide pancakes between serving plates. Top with greens, slices of avocado, crab salad and a drizzle of salsa verde and serve immediately.
Drink Pairings