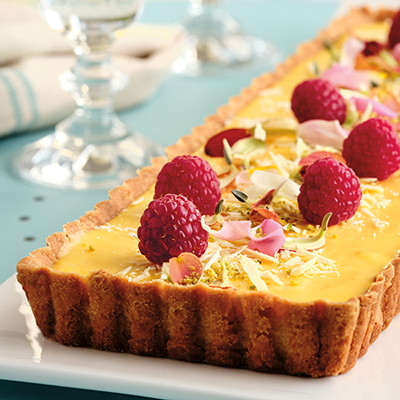 Ingredients
Serves 4 to 6
½ cup (125 ml) + 2 tbsp (30 ml) flour
3 tbsp (45 ml) icing sugar
¼ cup (60 ml) + 2 tbsp (30 ml) cold salted butter, cubed
½ cup (125 ml) + 3 tbsp (45 ml) unsweetened passion fruit purée (Available at specialty grocery stores. Can also substitute equal amount fresh lemon juice.)
¼ tsp (1 ml) pure vanilla extract
1 cup (250 ml) unsalted butter, cut into 2-in (5 cm) pieces
white chocolate shavings, raspberries, edible flowers and ground pistachios, for garnish (optional)
whipped cream, for serving (optional)
Instructions
To make the pastry, combine flour and icing sugar in a food processor. Add salted butter and pulse until a soft dough forms, about 2 minutes. Remove dough, form into a disk and cover in plastic wrap. Refrigerate for 1 hour.
Preheat oven to 350 F (180 C). Remove pastry from fridge and allow to soften to room temperature. Using your fingers, evenly press dough into bottom and up sides of a 14 x 4-in (36 x 10 cm) fluted tart pan with a removable base. Freeze for 20 minutes. Place on a baking sheet and bake for about 15 minutes or just until golden. Allow to cool.
To make filling, half-fill a large saucepan with water and bring to a boil. Reduce heat to medium-high. In a double boiler or large stainless steel bowl that fits snugly over pan of water, combine passion fruit purée, sugar, eggs, egg yolk, vanilla and salt. Place bowl over saucepan, making sure bottom of bowl is not touching water, and whisk thoroughly. Continue whisking intermittently, scraping down sides of bowl, until mixture thickens and registers 180 F (82 C) on a thermometer, about 12 to 14 minutes. Remove bowl from heat and cool to 140 F (60 C).
Using an immersion blender or high-speed blender, begin adding unsalted butter to passion fruit mixture 1 piece at a time, blending after each addition, until butter is incorporated. Pour into tart base, smoothing top, and chill in freezer for 2 hours or refrigerate for 4 hours. Save any extra filling for another use.
Remove tart from pan, leaving it on metal base, and place on a serving platter. Garnish with white chocolate shavings, raspberries, edible flowers and pistachios, if using, and serve with softly whipped cream, if desired.
Drink Pairings