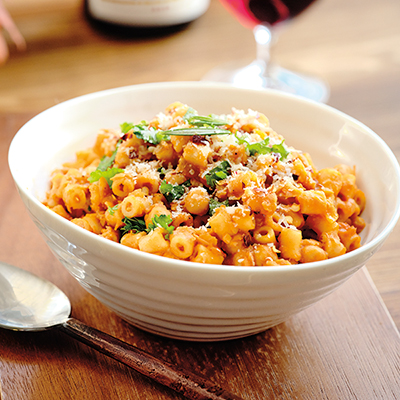 Ingredients
Serves 2-3
3 tbsp (45 ml) olive oil, divided
½ small yellow onion, diced
1 x 5.5 oz (156 ml) can tomato paste
1 x 19 oz (540 ml) can chickpeas, drained and rinsed
2 cups (500 ml) vegetable stock, plus 1 cup (250 ml) or more, if needed
½ tsp (2.5 ml) chili flakes
salt and pepper, to taste
2 cups (500 ml) dry ditalini pasta
1 cup (250 ml) grated Pecorino cheese, plus extra for garnish
¼ cup (60 ml) chopped flat leaf parsley leaves
Instructions
Heat 2 tbsp (30 ml) oil in a large stockpot over medium heat. Add onion and garlic and sauté for 5 to 8 minutes, until soft. Add tomato paste and cook for another 2 to 3 minutes, stirring occasionally. Add the chickpeas, 2 cups (500 ml) vegetable stock, rosemary, bay leaf, chili flakes and sugar. Stir and season with salt and pepper. Cover with a lid, reduce heat to low and simmer for 15 minutes, until chickpeas are tender.
Remove from heat. Remove and discard rosemary sprig and bay leaf. Using an immersion blender, gently pulse mixture until thickened but some texture remains (or, transfer half the mixture to a blender and pulse for 1 minute, then transfer back to pot). This is to thicken stock; don't blend fully, as you still want some whole chickpeas.
Return pot to medium-low heat, add pasta and cover with a lid. Stirring occasionally, gently simmer for 10 to 15 minutes, until pasta is cooked through. If all liquid has been absorbed and pasta is not fully cooked, add another 1 cup (250 ml) vegetable stock at a time, as needed, and simmer, stirring occasionally, until pasta is al dente.
To serve, stir in 1 cup (250 ml) Pecorino, then remove from heat and garnish with extra Pecorino, parsley and remaining 1 tbsp (15 ml) olive oil.
Drink Pairings