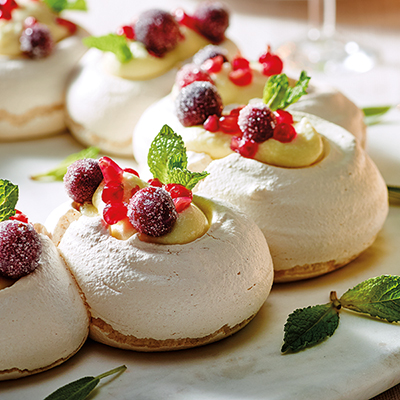 PAVLOVA WREATH WITH LEMON MASCARPONE CREAM
Ingredients
Serves 10 to 12
6 large egg whites, at room temperature
2½ cups (625 ml) sugar, divided
2 tsp (10 ml) vanilla extract
2 tsp (10 ml) corn starch
1 cup (250 ml) lemon curd
1 cup (250 ml) mascarpone cheese
1 cup (250 ml) cranberries
currants, pomegranate seeds and mint, for garnish (optional)
Instructions
Preheat oven to 300 F (150 C) and move oven rack to centre position. Line a large baking sheet with parchment paper. Trace a 10-in (25 cm) circle on parchment paper. Trace another 5-in (12 cm) circle inside larger circle to form a 2½-in (6.25 cm) wide ring. Place traced paper back on baking sheet, traced side down.
In bowl of stand mixer, beat together egg whites and salt on medium speed until slightly frothy, about 30 seconds. Slowly add ½ cup (125 ml) sugar and increase speed to high. Continue beating for 1 minute. Scrape down sides and bottom of bowl, then continue beating on high speed until eggs resemble foam. Scrape down sides and bottom of bowl again. Continue whisking on high speed, gradually adding 1½ cup (375 ml) sugar, 1 tbsp (15 ml) at a time until fully incorporated and meringue reaches stiff peak stage. Add vinegar, vanilla and corn starch. Whisk for 7 to 10 seconds.
Use about 1 tsp (5 ml) of meringue to stick bottom of parchment paper to baking sheet at each corner. Fill meringue into large piping bag without nozzle. Pipe large dollops (approximately 3-in (8 cm) diameter) of meringue around traced ring on parchment paper. Alternatively, use 2 large spoons to scoop out dollops of meringue inside traced ring (approximately 10 to 12).
Using back of a metal tablespoon, shape hollow "bowls" in each dollop to hold filling later.
Bake for 1 hour, 10 minutes. Turn off oven and without opening door, let meringue continue to dry in oven for another hour. Remove from oven and cool completely.
In a bowl, mix lemon curd and mascarpone until smooth. Refrigerate until ready to assemble.
In a small saucepan make simple syrup by heating ¼ cup (60 ml) sugar and ¼ cup (60 ml) water. Bring to a boil. When sugar has melted, remove from heat and add cranberries. Stir to coat fruit. Strain fruit and spread over wire rack on shallow baking sheet and allow to cool completely.
Place ¼ cup (60 ml) sugar into a shallow bowl. Roll cranberries in sugar to frost them, then place frosted cranberries in shallow container until ready to use.
When ready to assemble, scoop out hollows in each baked meringue dollop, if needed, to create "bowl." Spoon lemon mascarpone filling into each of them. Top with frosted cranberries as desired, and garnish with mint and other fruit, if preferred.
Drink Pairings