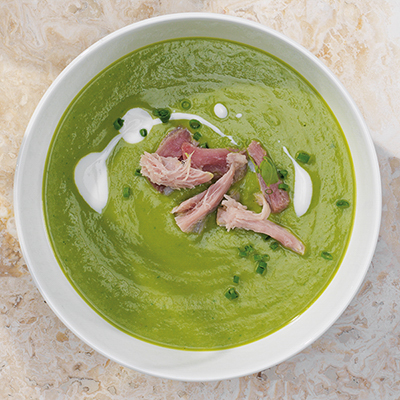 Ingredients
Serves 8 to 10
8 cups (2 L) water, approximately
2 cups (500 ml) split peas
3 carrots, peeled and roughly chopped
4 celery stalks, roughly chopped
2 cups (500 ml) frozen peas
1 cup (250 ml) chopped parsley
½ lb (500 g) smoked pork loin, cut or shredded into bite-sized pieces
½ cup (125 ml) crème fraîche, for garnish
2 tbsp (30 ml) finely chopped chives, for garnish
Instructions
In a piece of cheesecloth, add garlic, bay leaf, peppercorns and thyme and tie with kitchen string. Place herbs and ham hock in a large saucepan and add 8 cups (2 L) water, or enough to cover. Bring to a boil over high heat. Once it boils, reduce heat to a low simmer. Cook for 2 to 3 hours, occasionally skimming off fat.
Remove ham hock and cheesecloth from stock. Season to taste. Add split peas, carrots, onion and celery. Bring soup to a boil, reduce heat to a simmer. Cook for another 45 minutes to 1 hour, or until vegetables are tender and split peas are soft. While soup is cooking, defrost frozen peas.
In a blender, blend half of the soup with defrosted peas and parsley. Once blended, add back to saucepan and reheat.
In a saucepan with a bit of water, warm pork loin pieces until they are hot, about 2 minutes. Serve soup in bowls and garnish with crème fraîche, smoked pork loin and chives.
Drink Pairings