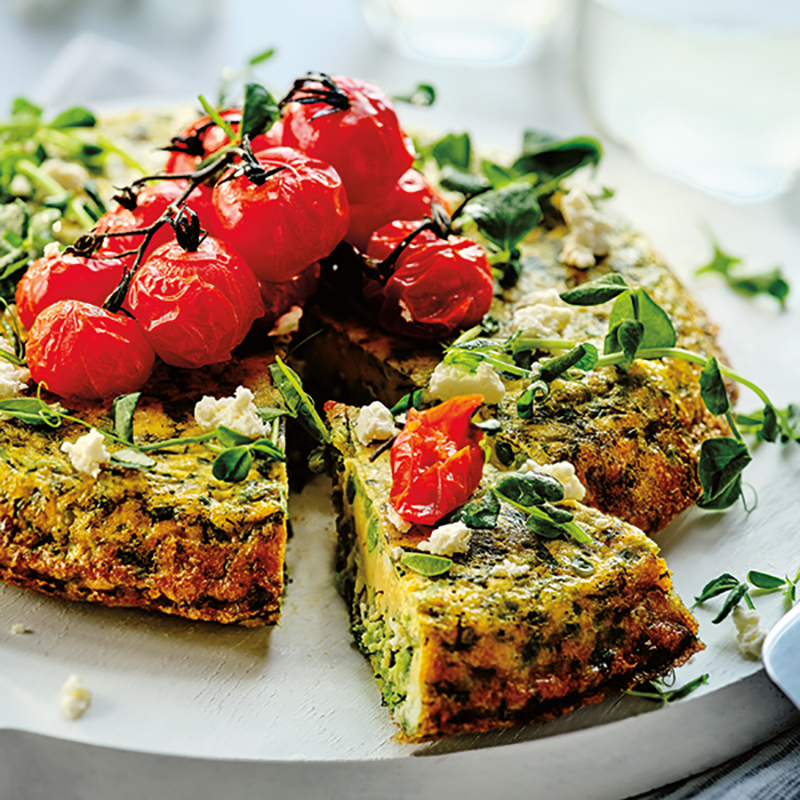 Pea & Herb Frittata
Enjoy this spring staple in four easy recipes, sure to please. Easy-peasy.
Ingredients
Serves 4
2 tbsp (30 ml) whipping cream
2 tsp (10 ml) kosher salt
1 tsp (5 ml) freshly ground pepper
2 cups (500 ml) frozen peas, blanched
½ bunch cilantro leaves, roughly chopped
½ bunch parsley leaves, roughly chopped
¼ cup (60 ml) finely chopped chives or green onion
4 oz (125 g) feta, crumbled, divided
2 tbsp (30 ml) olive oil, divided
1 bunch cherry tomatoes on the vine
Instructions
Preheat oven to 350 F (180 C). Beat eggs, cream, salt and pepper. Add peas, cilantro, dill, parsley, chives and 3 oz (90 g) feta. Mix well. 
In an 8-in (20 cm) non-stick oven-safe frying pan, heat butter and 1 tbsp (15 ml) oil over medium heat until butter has melted and is foamy. Swirl it around the pan to coat entire bottom and up sides. 
Pour in egg mixture and cook for 2 minutes until bottom has started to set. Transfer pan to oven and bake for about 20 minutes, until centre of frittata has just set but is still slightly wobbly.
Place cherry tomatoes on baking tray and drizzle with remaining olive oil. Roast for 10 minutes.
Transfer frittata to a serving platter. Garnish with roasted tomatoes, pea greens and remaining feta.
Drink Pairings