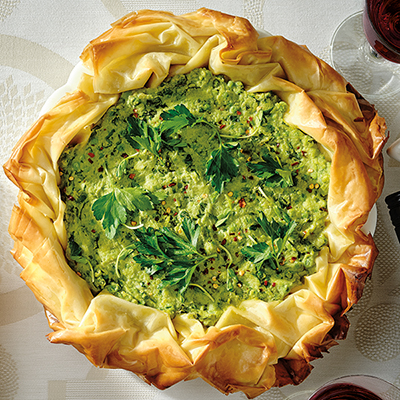 Pea, Mint and Preserved Lemon Tart
Ingredients
Serves 8
1 lb (500 g) fresh or frozen peas
1 tbsp (15 ml) olive oil, plus extra for brushing
4 green onions, trimmed and sliced
salt and black pepper, to taste
1 x 14 oz (398 ml) can white beans
1 preserved lemon, flesh discarded and rind finely minced (Available at specialty grocery stores)
½ cup (125 ml) pitted green olives, roughly chopped
¼ tsp (1 ml) red pepper chili flakes
½ cup (125 ml) packed mint leaves, roughly chopped
½ cup (125 ml) packed flat-leaf parsley leaves, roughly chopped
1 box (10 sheets) phyllo pastry
Instructions
Place an oven rack in lower third of oven and preheat to 425 F (220 C).
Bring a medium saucepan of salted water to a boil over high heat and cook peas until tender, about 1 to 4 minutes, depending on whether peas are fresh or frozen. Drain and set aside.
Heat 1 tbsp (15 ml) olive oil in a 10-in (25 cm) cast iron pan over medium heat and sauté green onions with a pinch of salt until softened, about 4 minutes. Set aside.
In a food processor fitted with steel blade attachment, blend white beans, egg and half the peas until smooth. Transfer to a large bowl and stir in remaining peas, sautéed green onions, preserved lemon, olives, chili flakes, mint, parsley and a good pinch each of salt and pepper until well combined. Set aside.
Unroll phyllo sheets to lay flat on counter and cover with a clean, damp tea towel to prevent from drying out. Place 1 phyllo sheet in front of you and brush generously with olive oil. Place another phyllo sheet on top of first and brush with olive oil. Repeat stacking and brushing until you have 5 phyllo sheets total. Gently press phyllo stack into cast iron pan used to sauté green onions, letting it hang over edge. Repeat stacking and brushing of phyllo sheets until you have another stack of 5. Gently press second phyllo stack into pan at a 90-degree angle to the last stack, again letting it hang over edges.
Spoon filling into middle of pastry and spread evenly across base. Crinkle up excess phyllo from overhang to form a wavy, textured crust around filling. Cook over medium heat for 3 minutes to crisp up bottom of pastry. Transfer to oven and bake until pastry is golden brown and crisp, about 20 to 25 minutes. Remove from oven and allow to cool for 15 minutes before serving.
Drink Pairings