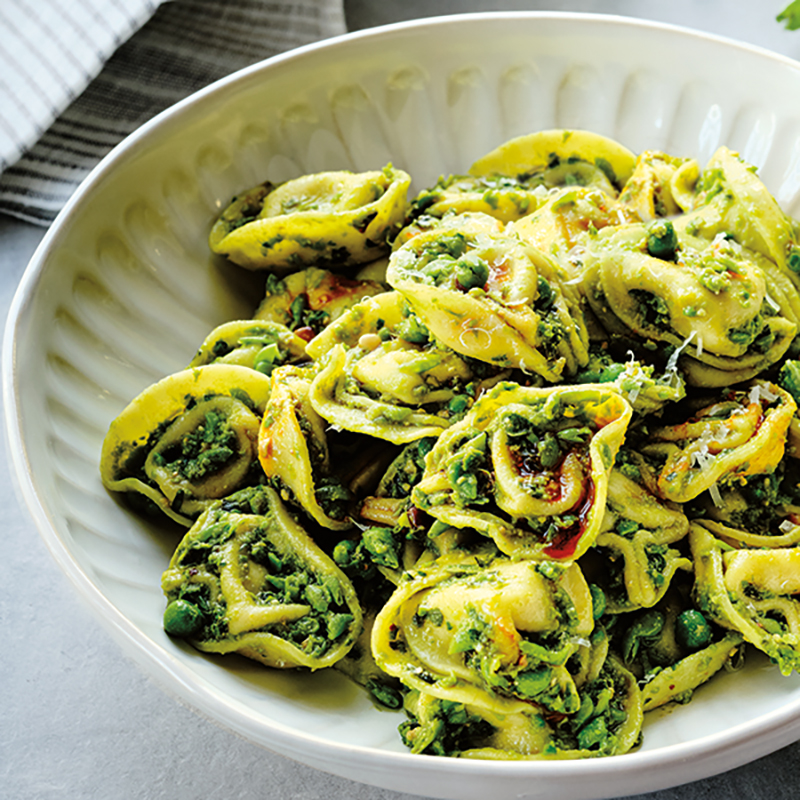 Pea Pesto Pasta
Enjoy this spring staple in four easy recipes, sure to please. Easy-peasy.
Ingredients
Serves 4
2 garlic cloves, roughly chopped
¼ cup (60 ml) roughly chopped, toasted pine nuts, divided
1 cup (250 ml) baby arugula
1 cup (250 ml) basil leaves, plus extra for garnish
4 oz (125 g) Parmigiano-Reggiano, grated, divided
2 tsp (10 ml) kosher salt, plus extra to taste and for cooking pasta
1 cup (250 ml) extra-virgin olive oil
2 cups (500 ml) frozen peas, blanched
2 tbsp (30 ml) crème fraîche
1 x 12 oz (350 g) package cheese-stuffed tortellini
Instructions
Combine garlic, 2 tbsp (30 ml) pine nuts, arugula, basil, 3 oz (90 g) Parmigiano-Reggiano, lemon juice and salt and pepper in a blender. Blend while slowly drizzling in olive oil until you have a smooth purée. Add peas and pulse until peas are roughly chopped. It should look chunky. Transfer to a bowl, fold in crème fraîche and adjust seasoning.
Cook tortellini according to package instructions. Add cooked tortellini plus ¼ cup (60 ml) pasta water to pea pesto and mix, adding more pasta water if sauce is too dry.
Divide pasta into 4 bowls and garnish with chili oil, remaining Parmigiano-Reggiano and basil.
Drink Pairings