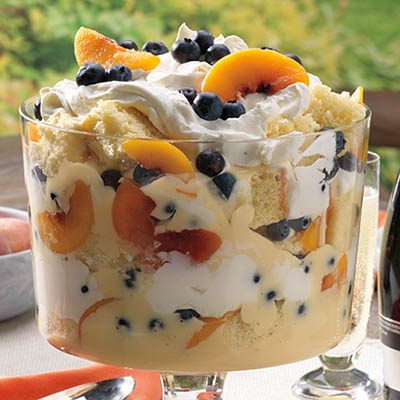 PEACH AND BLUEBERRY TRIFLE WITH BOURBON AND WHIPPED CREAM
Ingredients
Serves 8
2 cups (500 ml) homogenized milk
¼ cup (60 ml) granulated sugar
1 tsp (5 ml) vanilla extract
1 cup (250 ml) whipping cream
¼ cup (60 ml) granulated sugar
¼ cup (60 ml) bourbon, optional
1-inch store-bought vanilla sponge cake, cut into cubes
2 cups (500 ml) peeled, pitted and sliced peaches
2 cups (500 ml) fresh blueberries
Instructions
To make CRÈME ANGLAISE: In a medium-sized, heavy-bottomed saucepan, scald milk just to boiling point.
While milk is heating, combine sugar, egg yolks and vanilla extract in a bowl. Whisk vigorously by hand until smooth.
Slowly whisk ¼ of the hot milk into sugar-egg yolk mixture. Then gradually pour warmed egg yolk mixture into remaining hot milk.
Return saucepan to stove and cook over medium heat, stirring constantly, until Crème Anglaise is thickened and coats the back of a metal spoon. Do not boil.
Place saucepan with Crème Anglaise in a bowl with ice water, and stir until sauce is cooled. Strain sauce into a bowl and press a piece of plastic wrap into the surface. Refrigerate until ready to use. Can be made a day ahead.
To make TRIFLE: In an electric stand mixer fitted with a wire whisk, beat whipping cream in a chilled bowl until soft peaks begin to form. Gradually beat in sugar until medium peaks form. Set aside.
Remove Crème Anglaise from refrigerator and stir in bourbon, if using, and lemon zest. Set aside.
In a 12 cup (3 L) trifle dish or large bowl, scatter ⅓ of the sponge cake cubes over bottom of dish. Evenly pour ⅓ of the Crème Anglaise over top. Then sprinkle with ¼ of the peaches and blueberries and ⅓ of the whipped cream.
Repeat layers in the same order, ending with whipped cream topped with remaining fruit.
Refrigerate trifle for at least 2 hours, for flavours to blend. Serve the same day it is made.
Drink Pairings