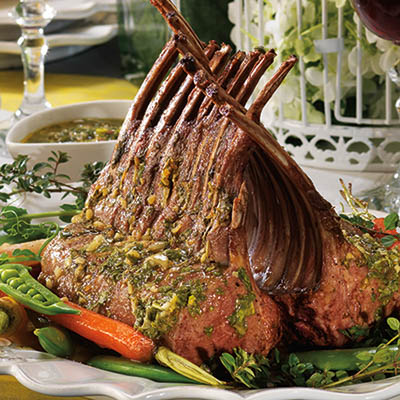 PEPPERED RACK OF LAMB WITH PARSLEY MINT SALSA VERDE
Ingredients
Serves 6 to 8
2 x 8 to 10-rib rack of lamb, about 4 lbs (2 kg) Frenched
½ tsp (2 ml) each ground cumin and coriander
freshly ground black pepper, to taste
2 tbsp (30 ml) vegetable oil
2 tbsp (30 ml) unsalted butter
PARSLEY MINT SALSA VERDE:
½ cup (125 ml) extra-virgin olive oil
¼ cup (60 ml) sherry vinegar
½ tsp (2 ml) each, salt and freshly ground black pepper
¾ cup (175 ml) chopped flat-leaf parsley
½ cup (125 ml) chopped fresh mint
2 garlic cloves, finely minced
1 small shallot, peeled and finely minced
Instructions
Blot racks of lamb dry. In a small bowl, combine salt, cumin and coriander. Stir to blend, then rub into lamb. Generously coat racks with freshly ground black pepper. Refrigerate for 45 minutes to 2 hours, for seasoning to seal chops.
While lamb is resting, prepare PARSLEY MINT SALSA VERDE: In a food processor, combine olive oil, vinegar, salt and pepper. Pulse to emulsify and dissolve salt. Add remaining ingredients and briefly pulse to blend. Set aside at room temperature and let rest for 20 minutes for flavours to blend. Can be made ahead and refrigerated for up to a day. Bring to room temperature before serving.
Using a very heavy-bottomed frying pan, such as cast iron about 12-in (30 cm) in diameter, heat oil over medium-high until it begins to shimmer. Place lamb racks, fat-side down, in hot pan and cook, turning occasionally with tongs until they begin to turn golden, about 4 minutes. Add butter and reduce heat to medium. Continue browning, basting the inner curve of racks with browned butter juices, turning often, until lamb is a deep golden brown.
Lamb should read 120 F (49 C) on a meat thermometer for medium-rare when inserted into the thickest part of the rack. For medium, cook 4 or 5 minutes longer or until it registers 130 F (54 C) when tested.
For dramatic presentation, transfer lamb to a serving platter, interlocking chops. Spread a little salsa verde over chops and serve remaining salsa in a small bowl on the side.
Drink Pairings