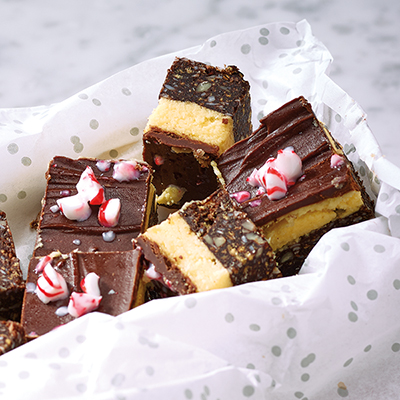 Ingredients
Serves 8 to 10
1 cup (250 ml) + ¼ cup (60 ml) salted
butter, softened, divided
¼ cup (60 ml) cocoa powder
¼ cup (60 ml) granulated sugar
2 cups (500 ml) graham cracker crumbs
¾ cup (175 ml) shredded unsweetened coconut
½ cup (125 ml) finely chopped almonds
2 tbsp (30 ml) vanilla custard powder
1 tbsp (15 ml) peppermint extract
3 tbsp (45 ml) whipping cream, room temperature
2 cups (500 ml) icing sugar, divided
1 cup (250 ml) semi-sweet chocolate chips
½ cup (125 ml) candy cane, chopped
Instructions
Set up a double boiler over medium heat. Bring water to boil and melt ½ cup (125 ml) of butter with cocoa powder and granulated sugar. Once mixture has melted, add egg and stir until thickened. Remove from heat and stir in graham cracker, coconut and chopped almonds. Press mixture into a parchment-lined 9-in (23 cm) square pan. Place in refrigerator while making other layers.
In a medium non-reactive mixing bowl, place ½ cup (125 ml) softened butter with custard powder and peppermint extract. Using an electric mixer with a whisk attachment, mix on medium until just combined, about 1 minute. Add whipping cream and ¼ cup (60 ml) icing sugar. Mix on high. Keep adding sugar ¼ cup (60 ml) at a time until you've added 2 cups (500 ml) total. Custard should be light and fluffy. Spread evenly onto base and return to refrigerator to set.
In a microwave-safe bowl, heat remaining ¼ cup (60 ml) of butter and chocolate chips for 30 seconds, remove and stir. Continue until chocolate mixture is fully melted. (If mixture is too thick to pour, add a bit more butter and return to microwave.) Pour chocolate over custard layer, sprinkle with candy cane crumble and set in refrigerator for 5 to 8 hours.
Drink Pairings