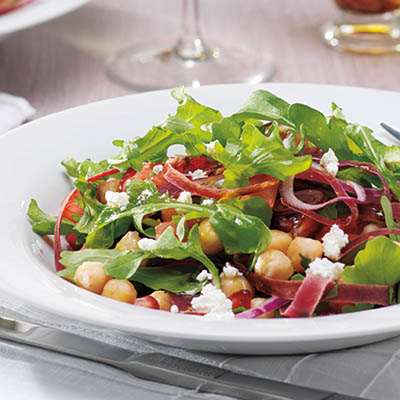 PERSIAN CHICKPEA SALAD WITH POMEGRANATE DRESSING
Ingredients
Serves 6
¼ cup (60 ml) extra-virgin olive oil
1 tbsp (15 ml) pomegranate molasses
1 tbsp (15 ml) lemon juice
1¼ cups (325 ml) dried chickpeas, soaked overnight in cold water1
2 firm ripe tomatoes, cored and diced
2 heirloom purple carrots, peeled and shaved lengthwise into strips
3 cups (750 ml) baby arugula, washed and patted dry
½ small red onion, thinly sliced, separated into rings
⅓ cup (75 ml) each finely chopped cilantro, Italian parsley and Thai basil
4 oz (125 g) Macedonian feta, crumbled
½ pomegranate, seeds only
Instructions
To make POMEGRANATE DRESSING: Combine olive oil, pomegranate molasses and lemon juice in a small bowl. Whisk until emulsified. Transfer to a small jar and refrigerate until ready to use. Makes ⅓ cup (75 ml).
To make SALAD: Place chickpeas in bowl and cover with cold water with a couple inches (5 cm) to spare. Soak overnight then drain and rinse. Place in a large saucepan and cover generously with cold water again. Bring to a boil over medium-high heat. Cover, with lid ajar, reduce heat to medium-low and simmer until chickpeas are tender, about 30 to 40 minutes. When tender, drain and place in a large bowl. Set aside to cool. Discard any skins that may have popped off during cooking.
Add tomatoes, carrots, arugula and onion to cooled chickpeas. Top with chopped herbs. Refrigerate until ready to serve.
Drizzle salad with dressing. Gently toss to evenly distribute. Transfer to a serving platter and scatter cheese and pomegranate seeds over top. Serve immediately.
Drink Pairings