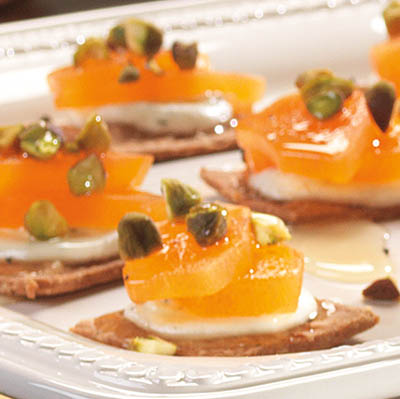 PERSIMMON AND PISTACHIO BITES
Ingredients
Serves about 40 bites
2¼ cups (560 ml) spelt flour, extra for rolling
2 tbsp (30 ml) sesame seeds
2 tbsp (30 ml) quick-cooking oats
¼ cup (60 ml) olive oil, plus extra
PERSIMMON AND PISTACHIO TOPPING:
1 cup (250 ml) goat's cheese
¼ cup (60 ml) whipping cream
1 tsp (5 ml) chopped fresh thyme
1 tbsp (15 ml) Meyer lemon zest
salt and pepper, to taste
1 tbsp (15 ml) Meyer lemon juice
¼ cup (60 ml) clover honey, warmed
¼ cup (60 ml) pistachios, toasted and roughly chopped
Instructions
Preheat oven to 350 F (180 C). Lightly oil 2 baking sheets and set aside.
In a large bowl, stir together Spelt Cracker ingredients until well combined. Set aside for 5 minutes.
On a lightly floured work surface, roll out dough with rolling pin to 1⁄4-in (0.5 cm) thickness. Cut dough into 2-in (5 cm) squares. Transfer to prepared baking sheets and bake until crackers are crisp and golden brown, 15 minutes. Transfer baked crackers to a wire rack to cool.
For toppings, in a medium-sized bowl, whisk together goat's cheese, cream, thyme and lemon zest with hand mixer on low speed until creamy, about 1 minute. Season to taste with salt and pepper.
Peel, trim and cut persimmons into ½-in (1 cm) slices. Transfer to a bowl and lightly toss with lemon juice.
Before serving, spread goat's cheese mixture over crackers. Top with segments of persimmon and transfer to serving platter. Garnish with a drizzle of honey, chopped pistachios and an extra sprinkle of salt and pepper, if desired. Serve immediately.
Drink Pairings