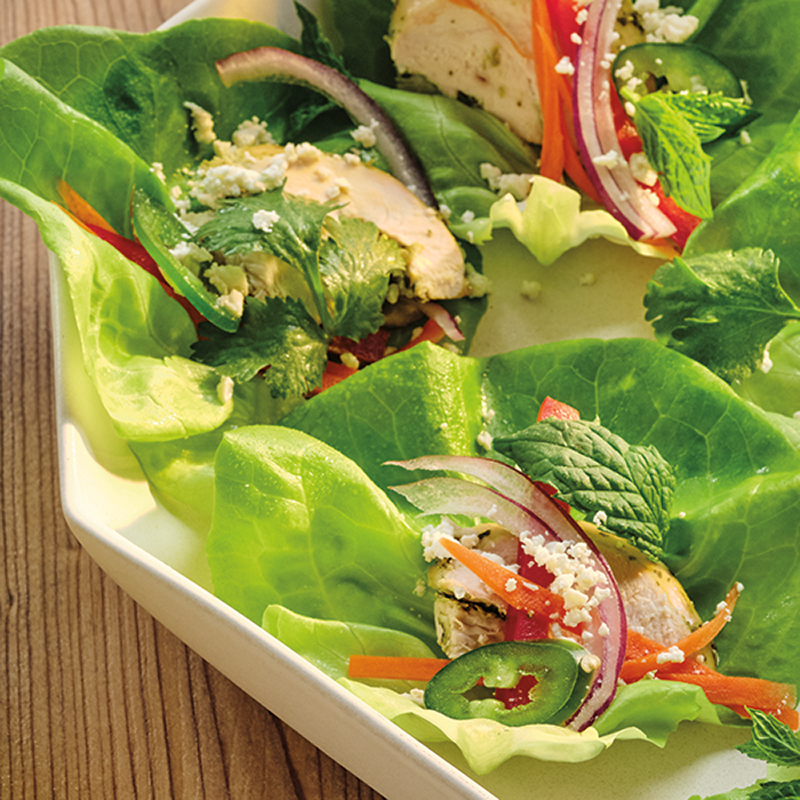 Peruvian-Inspired Chicken Lettuce Wraps with Aji Verde
Ingredients
Serves Serves 2 to 3
2 green onions, trimmed and roughly chopped
1 small jalapeño, halved, seeded and sliced, divided
2½ cups (625 ml) packed cilantro leaves, divided
1 cup (250 ml) packed parsley leaves
½ cup (125 ml) packed mint leaves
1 cup (250 ml) sour cream
2 tbsp (30 ml) red wine vinegar
salt and pepper, to taste
1 small red bell pepper, thinly sliced
¼ red onion, thinly sliced
1 medium carrot, shredded
½ cup (125 ml) crumbled feta cheese
1 large head butter lettuce
Instructions
To make Aji Verde, in a food processor or blender, combine green onions, garlic, half the jalapeño, 2 cups (500 ml) cilantro, parsley, mint, lime zest and juice, sour cream and red wine vinegar. Blend on high until smooth. Season with salt and pepper, to taste.
Place chicken in a container with a lid and pour half the Aji Verde over top. Reserve remaining Aji Verde for serving and place in refrigerator. Transfer chicken to refrigerator and marinate for at least 1 hour and up to 4 hours.
Preheat grill to medium-high. Grill chicken for 8 to 10 minutes per side, or until internal temperature reaches 165 F (74 C). Let rest for 5 minutes, then slice.
On a serving platter, arrange remaining jalapeño, remaining ½ cup (125 ml) cilantro, red pepper, red onion, carrot and feta. Add whole lettuce leaves along with chicken and remaining Aji Verde.
To serve, place a mixture of the ingredients, as desired, in a lettuce leaf and drizzle with a spoonful of Aji Verde.
Drink Pairings