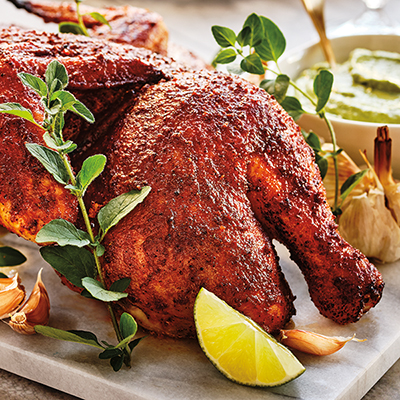 PERUVIAN ROAST CHICKEN WITH SPICY GREEN SAUCE
Ingredients
Serves 4
1 x 4 lb (2 kg) whole chicken
3 tbsp (45 ml) extra-virgin olive oil
¼ cup (60 ml) freshly squeezed lime juice
4 large garlic cloves, roughly chopped
1 tbsp (15 ml) salt, plus extra to taste
2 tsp (10 ml) sweet paprika
2 tsp (10 ml) smoked paprika
1 tsp (5 ml) black pepper, plus extra to taste
1 tbsp (15 ml) ground cumin
1 tbsp (15 ml) dried oregano
1 tbsp (15 ml) dark brown sugar
4 whole heads garlic, brushed with olive oil
2½ tbsp (37 ml) seeded and finely chopped jalapeño pepper, or to taste
1 cup (250 ml) fresh cilantro leaves, packed
2 large garlic cloves, roughly chopped
½ cup (125 ml) full-fat yogurt
1 ripe avocado, coarsely chopped
2 tbsp (30 ml) freshly squeezed lime juice, plus extra to taste
salt and pepper, to taste
2 tbsp (30 ml) extra-virgin olive oil
Instructions
To prepare chicken, using kitchen shears, remove backbone, then using shears or a sharp knife, cut chicken along breastbone into 2 halves.
Using an immersion blender, combine olive oil, lime juice, garlic, salt, paprikas, black pepper, cumin, oregano and brown sugar. Process until smooth and set aside 3 tbsp (45 ml) for later use.
Pat outside of chicken dry with paper towel and place in a large bowl, breast-side up. Using fingers, loosen skin from flesh over breasts and legs. Spread ¼ of the spice paste evenly underneath skin, and another ¼ over skin and on back side, massaging into nooks and crannies. Repeat with second half of chicken. Season both halves well with salt and pepper. Cover bowl and refrigerate for 6 hours, or overnight for best flavour.
Preheat oven to 425 F (220 C). Line a large roasting pan with parchment paper and place chicken halves, breast-side up, in pan. Roast for 20 minutes, then brush with reserved 3 tbsp (45 ml) spice paste and add whole garlic heads to pan. Reduce heat to 375 F (190 C) and continue roasting chicken for about 30 to 35 minutes, or until juices run clear when pierced between leg and thigh.
To make Spicy Green Sauce, combine all ingredients except olive oil in blender jar of an immersion blender and blend until smooth. Add olive oil and process to emulsify. Transfer sauce to a bowl, cover and refrigerate until ready to serve.
To serve, place chicken halves on a serving platter with Spicy Green Sauce and lime wedges. Tear open garlic heads (carefully, as they will be hot) and serve 1 per person alongside chicken.
Drink Pairings