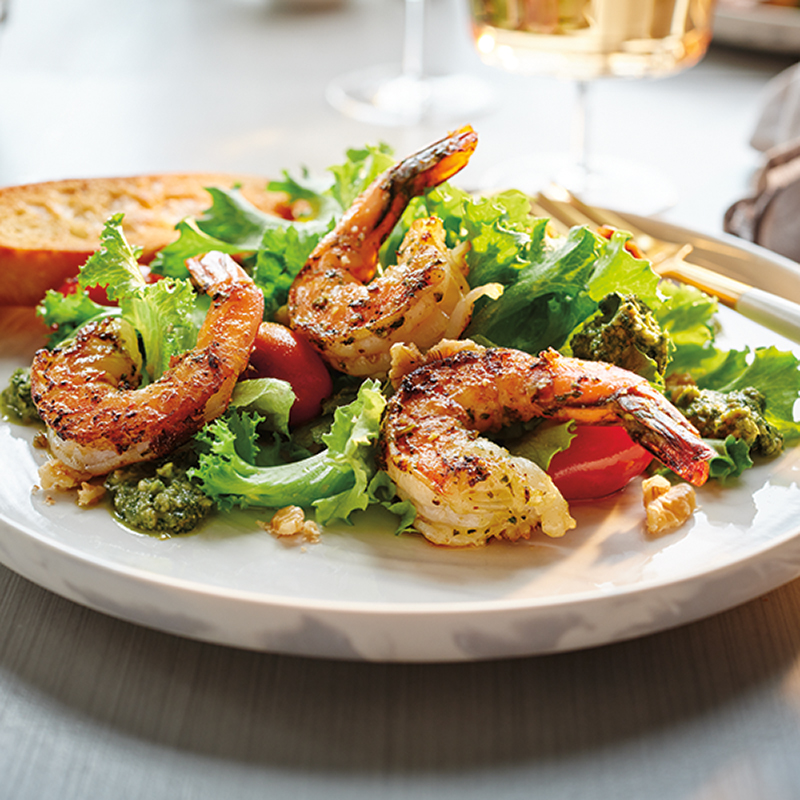 Ingredients
Serves 2
3 garlic cloves, divided, minced
⅓ cup (75 ml) raw walnuts
1 cup (250 ml) basil leaves, packed
⅓ cup (75 ml) Parmesan, plus extra for garnish
salt and pepper, to taste
2 tbsp (15 ml) butter, divided
10.5 oz (300 g ) raw peeled prawns
1 cup (250 ml) cherry tomatoes
1 head butter lettuce, outer leaves removed, roughly chopped
1 tbsp (15 ml) balsamic vinegar
Instructions
Preheat oven to 350 F (180 C).
To make pesto, in a blender, place 2 garlic cloves, walnuts, basil, olive oil, lemon juice and Parmesan. Blend on high until smooth. Season to taste with salt and pepper and set aside.
In a small microwave-safe bowl, melt 1 tbsp (15 ml) butter and add remaining clove of minced garlic. Lay baguette on a baking sheet and pour butter mixture evenly over top. Place in oven until brown and toasted, about 10 minutes.
In a medium saucepan over medium-high heat, melt remaining 1 tbsp (15 ml) butter. Place prawns in a small bowl with 2 large spoonfuls of pesto. Mix to coat. Cook prawns in butter just until opaque, about 2 to 3 minutes on each side. Remove prawns and set aside. Add cherry tomatoes to same saucepan and cook for 5 to 8 minutes until slightly charred.
In a large bowl, toss together lettuce, prawns and cherry tomatoes. Add balsamic to remaining pesto and dress salad to taste, then toss to combine.
Drink Pairings