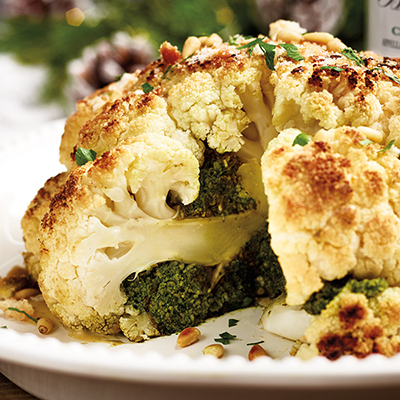 PESTO-STUFFED ROASTED CAULIFLOWER SERVED WITH TAHINI SAUCE
Ingredients
Serves 6
1 cup (250 ml) basil, packed
2 tbsp (30 ml) nutritional yeast
2 cups (500 ml) spinach, packed
1 cup (250 ml) +2 tbsp (30 ml) bread crumbs, divided
¼ cup (60 ml) + 1 tbsp (15 ml) extra-virgin olive oil, divided
salt and pepper, to taste
¼ cup (60 ml) pine nuts, toasted, for garnish
1 tbsp (15 ml) nutritional yeast
salt and pepper, to taste
Instructions
Preheat oven to 375 F (190 C).
Trim any leaves from base of cauliflower. Using a paring knife, partially remove core of cauliflower. Be careful not to cut off any florets.
In a large soup pot, add cauliflower, with enough water to cover, and bring to a boil. Cook for 10 minutes, then remove from heat to cool.
In a food processor, place basil, garlic, lemon juice, zest, yeast and spinach. Pulse to combine and sprinkle in 1 cup (250 ml) bread crumbs. Blend on medium while streaming in ¼ cup (60 ml) olive oil. Season to taste. Place mixture in a piping bag and cool in refrigerator for 10 minutes.
Pipe pesto into cauliflower base, making sure to fill all nooks. Place right-side up on a cast iron pan. Top with 1 tbsp (15 ml) olive oil and season to taste with salt and pepper. Bake in oven for 35 to 40 minutes, until fork-tender. Remove and top with 2 tbsp (10 ml) bread crumbs, then return to oven. Broil on high for 1 to 2 minutes until golden brown.
Serve topped with Tahini Sauce and pine nuts.
For TAHINI SAUCE, place all ingredients in a small blender and blend on high. Add more water for a thinner consistency, if desired.
Drink Pairings