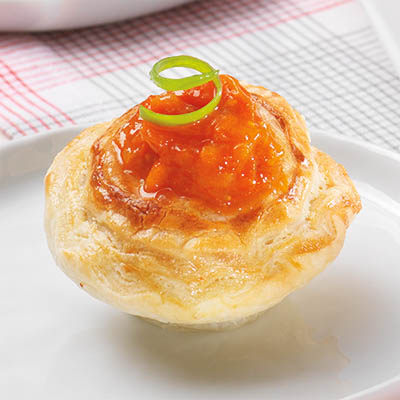 Ingredients
Serves
1 cup (250 ml) butter, chilled and cut into cubes
2½ (625 ml) cups pastry flour
¼ to ½ cup (60 to 125 ml) cold water
1 stalk celery, finely chopped
2 cloves garlic, finely chopped
1 potato, peeled and diced
2 tbsp (30 ml) white wine
½ cup (125 ml) chicken or vegetable stock
Instructions
To make PASTRY: In a food processor blend the butter, flour, and salt until the mixture looks like coarse crumbs the size of a pea. Sprinkle with ¼ cup (60 ml)of water. Pulse until the dough sticks together when squeezed, adding up to ¼ cup (60 ml) more water if needed, 1 tbsp (5 ml) at a time. It will still look crumbly.
Form the dough into two balls, wrap with saran wrap and chill in the fridge for at least 2 hours, preferably overnight.
Roll the dough to 1¼-inch (3 cm) thickness and cut enough rounds to line your mini muffin tin and enough rounds to top each pie. Line the mini muffin tin with pastry. Poke holes in the pastry to prevent bubbles. Chill lined tin and rounds for 1 hour in the fridge.
To make FILLING: In a medium-sized skillet, sweat onion, celery and garlic in the butter. Add the pork and cook, breaking the pork up into small pieces. Add potato, nutmeg, cinnamon, kosher salt, pepper, white wine and stock. Cover and cook over low heat until the potatoes are tender. Check and adjust seasoning. Transfer the filling to a parchment paper lined sheet pan and cool to room temperature.
Preheat oven to 400 F (200 C).
Put 2 to 3 tbsp (30 to 45 ml) filling in each muffin cup (depending on the size of your muffin tin). Brush the sides of the pies with egg wash and put the pastry tops on. Pinch the pastry closed. Cut 1 to 2 vent holes in the top of each pie. Brush the lids with egg wash.
Bake for 15 to 20 minutes or until the pastry is golden brown. Let cool or serve slightly warm with ketchup.
Put all the ingredients in a pot and bring to a simmer. Simmer for 20 to 30 minutes, or until thick and chunky, remove and discard garlic clove. Cool and serve.
Drink Pairings