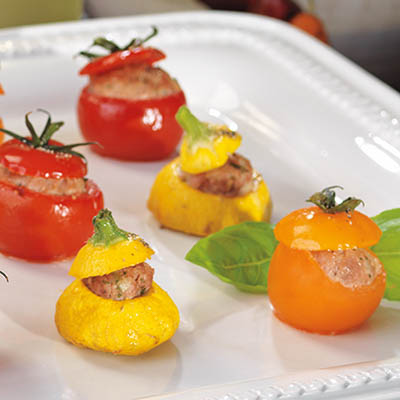 Ingredients
Serves 24 stuffed vegetables
12 small yellow pattypan squash
12 small tomatoes, about size of golf balls
1 slice of white or whole wheat bread
1 tbsp (15 ml) grapeseed oil
8 oz (250 g) each ground turkey and pork
1 large egg, lightly beaten
¼ cup (60 ml) grated pecorino cheese
1 tsp (5 ml) finely chopped fresh thyme
½ tsp (2 ml) fennel seeds
1 pinch crushed red pepper flakes (optional)
1 tbsp (15 ml) finely chopped fresh parsley
salt and pepper, to taste
Instructions
Cut top third off pattypan squash and tomatoes. Reserve tops. Gently scoop out inside of vegetables leaving a wall about 1⁄4-in (0.5 cm) thick. Stand hollowed out squashes and tomatoes up in an oiled 9 x 13-in (23 x 33 cm) baking dish.
Preheat oven to 400 F (200 C). Remove crust from bread before crumbling into small pieces and place in a small bowl. Stir in milk and set aside.
Warmoilinafryingpanover medium heat. Sweat onion until translucent but not browned, 4 minutes. Stir in garlic and cook another minute before removing pan from heat.
In a large bowl, combine turkey, pork, egg, cheese, thyme, fennel seeds, pepper flakes (if using), parsley, soaked bread, cooked onion mixture and a pinch of salt and pepper. Mix with hands until well incorporated. Divide mixture into 24 small meatballs and place inside hollowed out vegetables. Bake until meat is cooked but not coloured, 15 to 20 minutes. top each vegetable with cap and return to oven until meat is sizzling, 10 minutes. Allow to cool slightly before serving. Best served warm.
Drink Pairings