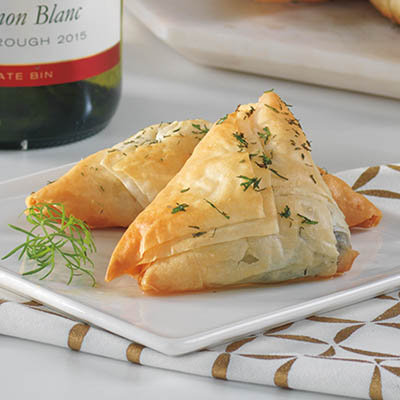 Ingredients
Serves 24
1 small yellow onion, very finely diced, about ½ cup (125 ml)
2 garlic cloves, smashed and minced
3 cups (750 ml) finely chopped Swiss chard
¼ cup (50 ml) toasted pine nuts
¼ cup (50 ml) crumbled feta cheese
2 tbsp (30 ml) freshly grated Parmesan
1 tsp (5 ml) dried harissa spice, plus extra for dusting top of phyllo
454 g box frozen phyllo pastry dough, thawed
¾ cup (175 ml) unsalted butter, melted, plus extra, if needed
Instructions
Heat oil in a saucepan, add onion and garlic. Sauté over medium heat until soft and almost clear. Stir often. Stir in chard, and sauté until wilted. Remove to a large bowl lined with cheesecloth. Squeeze excess moisture from mixture and place in another bowl.
Gently unroll phyllo sheets and place flat on a sheet of waxed paper. To prevent phyllo drying out, cover pastry with plastic wrap and then a damp kitchen towel. Lay one sheet of phyllo on a flat surface. Brush with melted butter, working from centre of sheet to the edges. Place another sheet of phyllo directly on top and brush with butter.
Cut phyllo into 4 equal-sized horizontal strips. Place about 1½ tbsp (22 ml) of cooled filling on end of each strip. Fold over corner to form a triangle. Continue folding phyllo end to end making a triangle-shaped envelope. Brush with melted butter to seal seams and place in a single layer on a lightly buttered, parchment-lined baking sheet. Continue to make triangle phyllo pockets until all filling is used up (covering unused phyllo sheets with a damp cloth).
If not baking immediately, overwrap baking sheet and Phyllo Bites with plastic wrap to tightly seal. Freeze for up to 3 weeks.
When ready to bake, preheat oven to 350 F (180 C). Bake Phyllo Bites from thawed or frozen, uncovered, in a single layer, about 15 to 20 minutes. Serve with a light dusting of harissa spice.
Drink Pairings