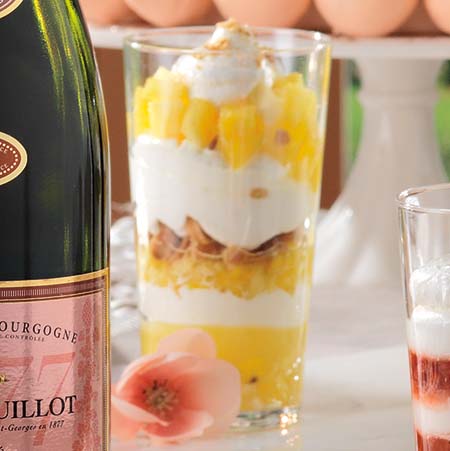 Ingredients
Serves Serves 8
1 x 14 oz (398 ml) full-fat coconut milk, refrigerated overnight
½ cup (125 ml) icing sugar
½ tsp (2 ml) vanilla extract
½ cup (125 ml) whipping cream
3 cups (750 ml) pineapple chunks, drained and very finely diced
2 tbsp (30 ml) coconut-flavoured rum, optional
¾ cup (175 ml) coarsely chopped macadamia nuts, toasted
Instructions
Remove can of coconut milk from refrigerator, being careful not to tip or jostle contents. Scrape out top layer of thickened cream into a large, chilled mixing bowl. Refrigerate remaining liquid for use in another recipe. With an electric mixer, beat cream for 1 minute until smooth. Gradually beat in icing sugar and vanilla until smooth and creamy. Set aside.
Place whipping cream in another chilled mixing bowl. With cleaned and chilled beaters, whip until cream is fluffy and soft peaks form. Add to coconut cream and gently fold together until evenly mixed. Transfer to a piping bag filled with a 1A piping tip.
Place finely diced pineapple in a bowl and stir in rum, if using.
To assemble, line up 8 x 6 oz (175 ml) glasses. Place about 2 tbsp (30 ml) pineapple in the bottom of each glass. Pipe each with about 3 tbsp (45 ml) whipped coconut cream and add another layer of pineapple. Sprinkle with a tbsp (15 ml) chopped macadamia nuts. Pipe with another layer of cream and a layer of pineapple ending with cream. Dust with a few more chopped macadamias. Refrigerate until ready to serve. Best served the same day.
Drink Pairings