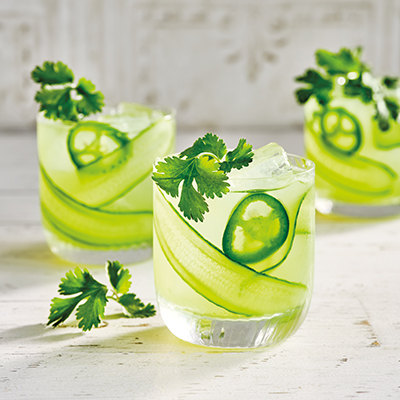 Ingredients
Serves 1
1½ oz (45 ml) El Jimador Blanco Tequila
¾ oz (22 ml) simple syrup*
4 cucumber ribbons (save 2 for garnish)**
3 sprigs cilantro (save 1 for garnish)
3 jalapeño slices (save 1 for garnish)
Instructions
In a cocktail shaker with cubed ice, combine tequila, lime juice, simple syrup, 2 cucumber ribbons, 2 sprigs cilantro and 2 jalapeño slices. Shake vigorously and fine strain into a rocks glass over new cubed ice. Garnish with 2 cucumber ribbons, 1 sprig cilantro and 1 jalapeño slice.
* 1:1 ratio of sugar dissolved in boiling water. Allow to cool before using.
** Use a vegetable peeler to peel down the length of a cucumber. Mini cucumbers are handy, but larger ones work too.
Featuring