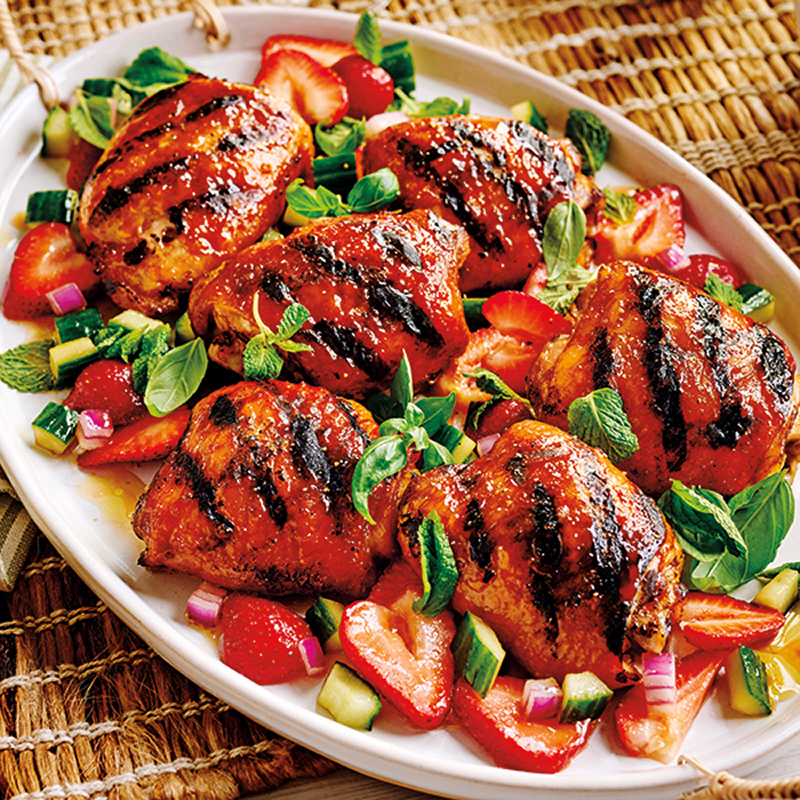 PIMM'S-GLAZED CHICKEN WITH STRAWBERRY CUCUMBER SALSA
Ingredients
Serves 4
3 tbsp + ½ cup (170 ml) Pimm's No. 1 Cup, divided
2 tsp (10 ml) grated ginge
tsp + 1 tbsp (25 ml) clover honey, divided
tsp (10 ml) white miso paste, divided
2 tbsp (30 ml) orange marmalade
1 tbsp (15 ml) apple cider vinegar
1½ cups (375 ml) sliced strawberries
½ English cucumber, diced
½ small red onion, finely diced
¼ cup (60 ml) packed fresh basil leaves, torn
¼ cup (60 ml) packed fresh mint leaves, torn
tbsp (30 ml) extra-virgin olive oil
2 tsp (10 ml) each fresh lemon, lime and orange juice
Instructions
To marinate chicken, in a large, non-reactive bowl, whisk together 2 tbsp (30 ml) Pimm's, tamari, garlic, ginger, 1 tsp (5 ml) honey and 1 tsp (5 ml) miso until well-combined. Add chicken and toss well in marinade. Cover and refrigerate, letting chicken marinate at least 2 hours and up to 24 hours.
While chicken is marinating, make glaze. In a small saucepan, stir together ½ cup (125 ml) Pimm's, 1 tbsp (15 ml) honey and 1 tsp (5 ml) miso along with marmalade and vinegar. Place over medium heat and bring to a hard simmer while stirring constantly. Let mixture simmer, stirring often, until thickened and syrupy, about 5 minutes. Remove from heat and set aside to cool to room temperature. Glaze can be made up to 1 week ahead and stored in an airtight container in refrigerator.
When ready to cook chicken, preheat grill to medium-high heat. While grill heats up, remove chicken from refrigerator and allow to sit in marinade at room temperature for 30 minutes.
Remove chicken thighs 1 at a time from marinade and pat each dry with paper towel. Transfer chicken to grill and cook with lid closed, turning and basting with the glaze every 3 to 5 minutes until golden brown, grill marked and cooked through, about 20 to 25 minutes total. Transfer chicken to a platter and set aside to rest while preparing strawberry cucumber salsa.
To make a chunky strawberry cucumber salsa, in a large bowl, gently toss together strawberries, cucumber, red onion, basil leaves, mint leaves, olive oil, citrus juices, remaining 1 tbsp (15 ml) Pimm's and 1 tsp (5 ml) honey. Set aside to marinate together for 10 minutes.
To serve, drizzle chicken with any remaining glaze and serve alongside strawberry cucumber salsa.
Drink Pairings